sandtree
Time is racing toward us till the
Huns arrive
polls close in Ohio, Texas, Vermont, and Rhode Island. We all have our predictions. Or not. Personally, I appreciate that Barack Obama is apparently forming conspiracies with Canada.
But I'll bet you didn't know that Hillary Clinton can bust a move, and John McCain is a drunk.
That's right, it's time for...
One last shot of Mitt Romney, before he has to depart the house forevah.
Mitt Romney 'finds own place'.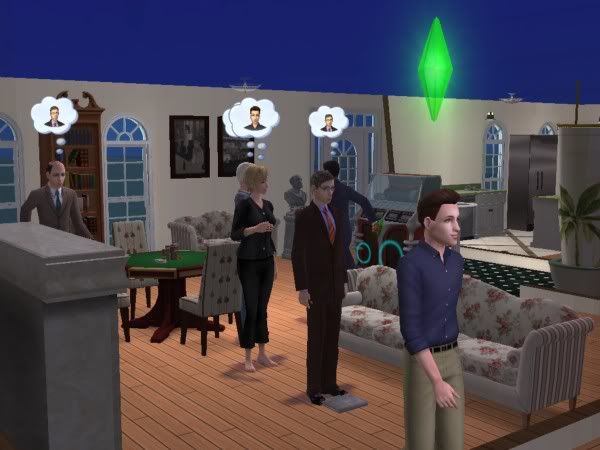 Everyone runs to say goodbye.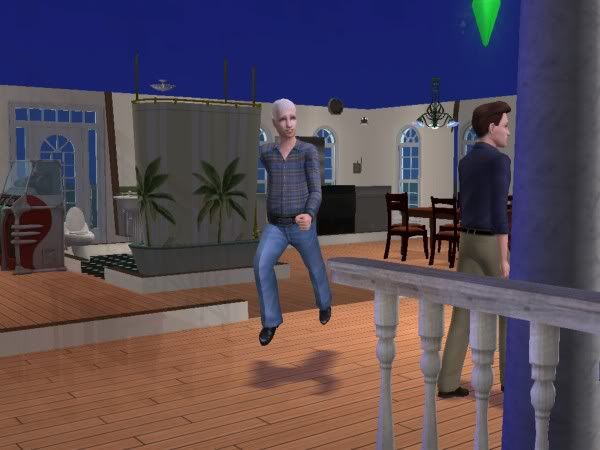 John McCain is so happy, he levitates.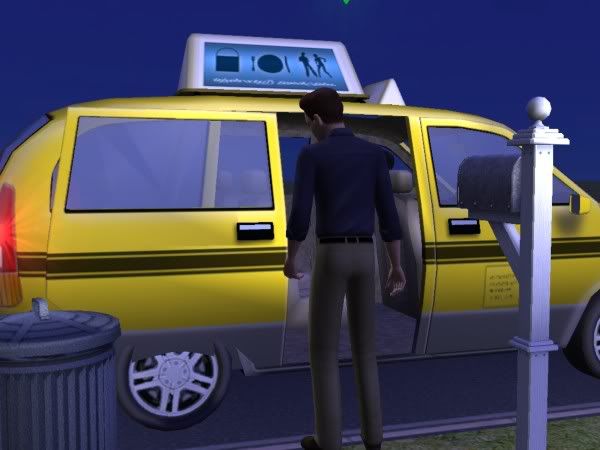 Goodbye, Mitt Romney. Your antics will be missed. :(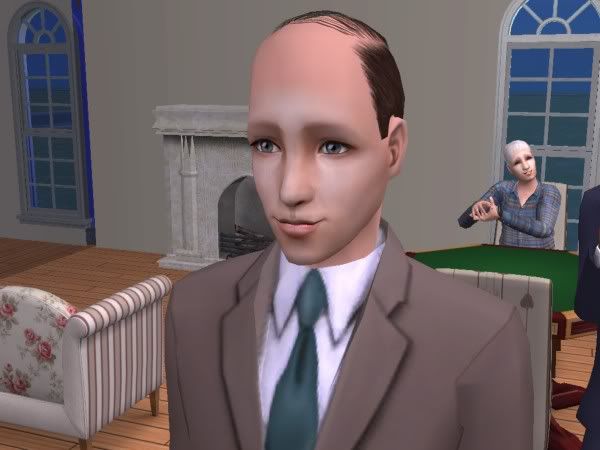 Um, yeah. I don't know why, but when I went back into the game, Mike Huckabee had no eyebrows. I fixed him up, though, don't worry. Maybe Pierre Noir stole them.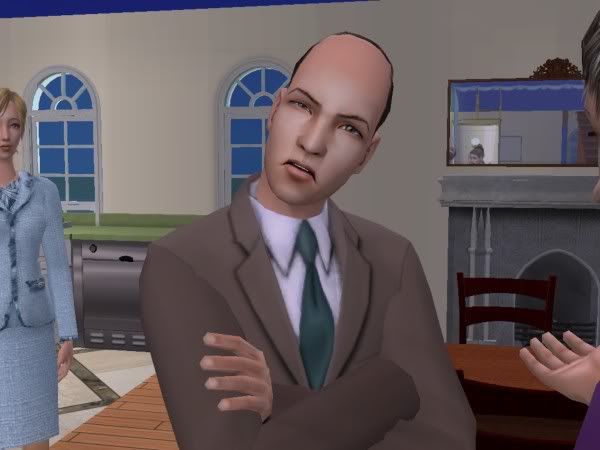 This is the thanks I get for giving you back your eyebrows?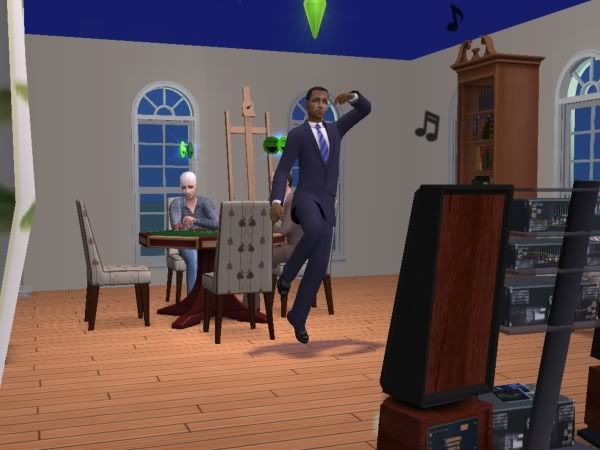 Shenanigans!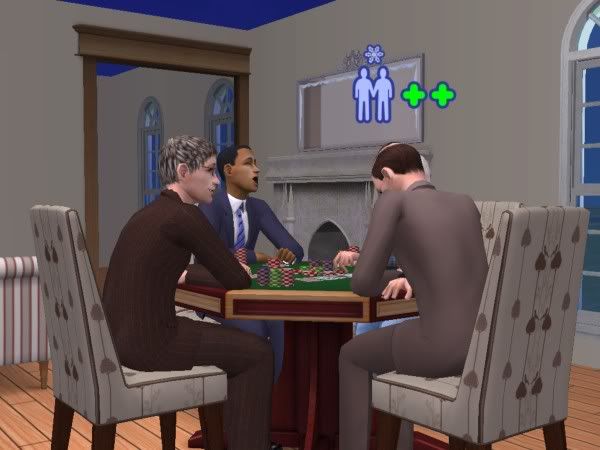 This is when I decided that the poker table was going. They were obsessed. Addicted to gambling. Sad tale.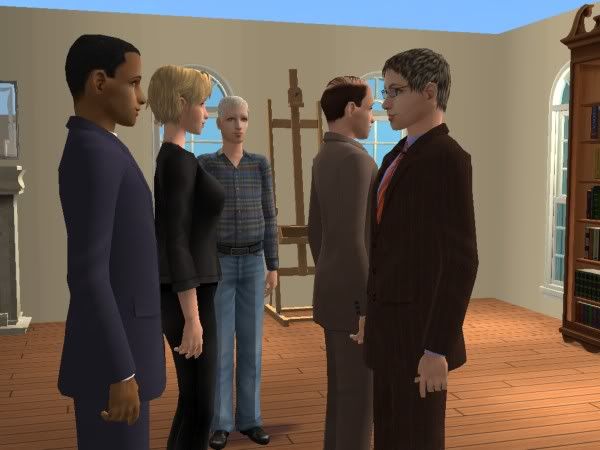 They had no idea what to do without it.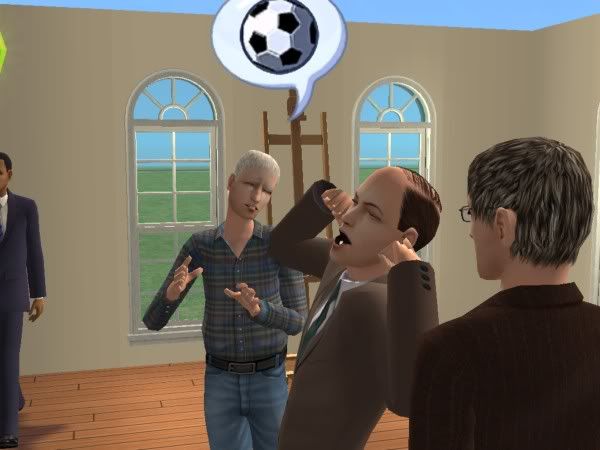 Oh, I know, have an argument about soccer balls! Genius.
I got them a bar, and immediately John McCain went up there and started drinking alone.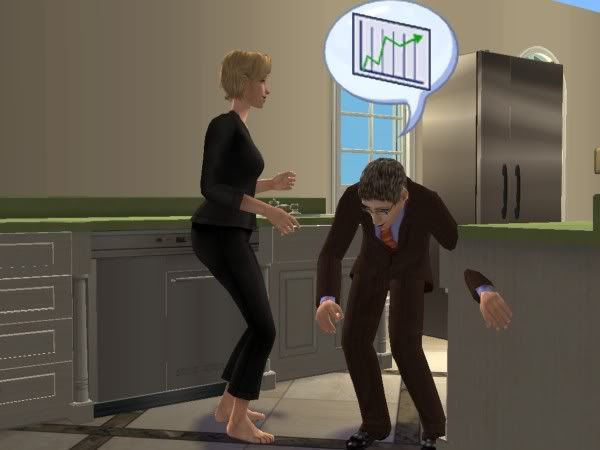 I'm not really sure what's going on down here.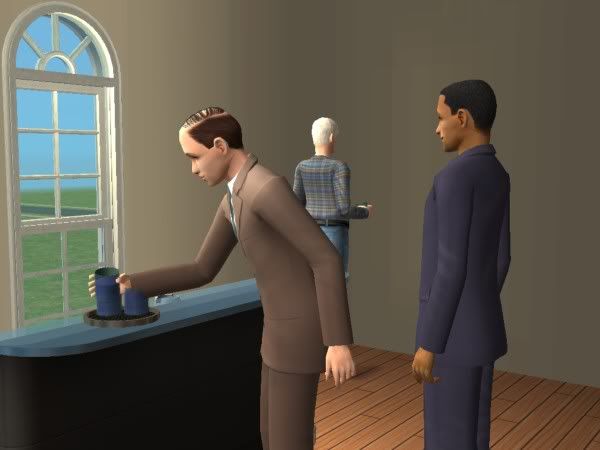 Mike Huckabee and Barack Obama crash John McCain's party.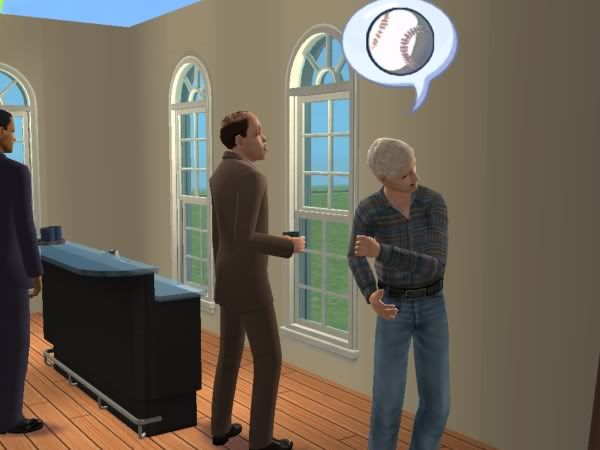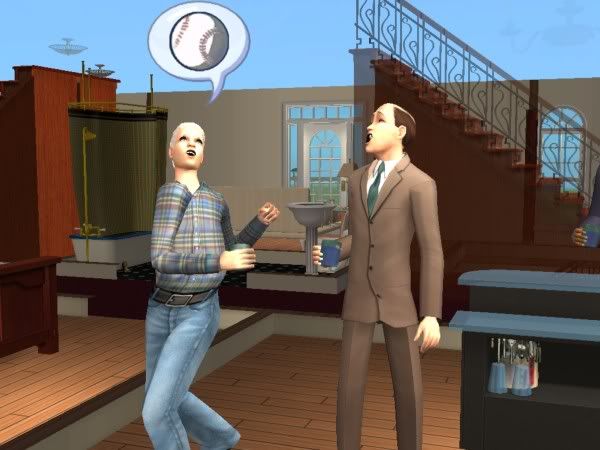 Have a few more drinks, gentlemen.
Well, something pissed him off. I personally can't think of any reason John McCain wouldn't want to party with Obama and Huckabee right now.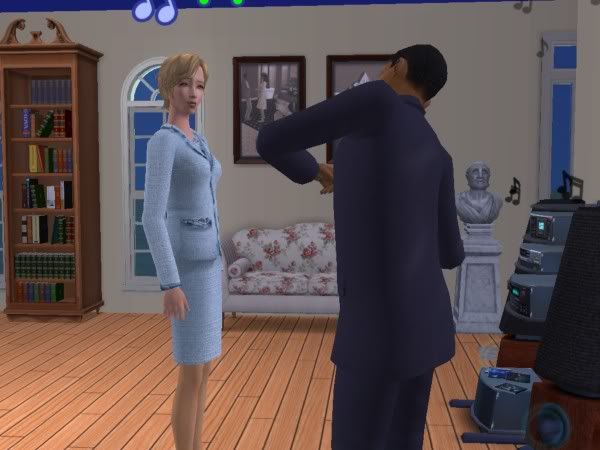 "Hey Hillary, watch this sweet move."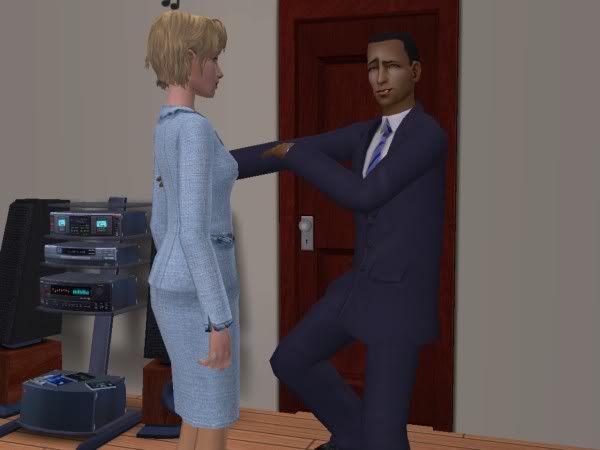 "Come on, where's your groove?!"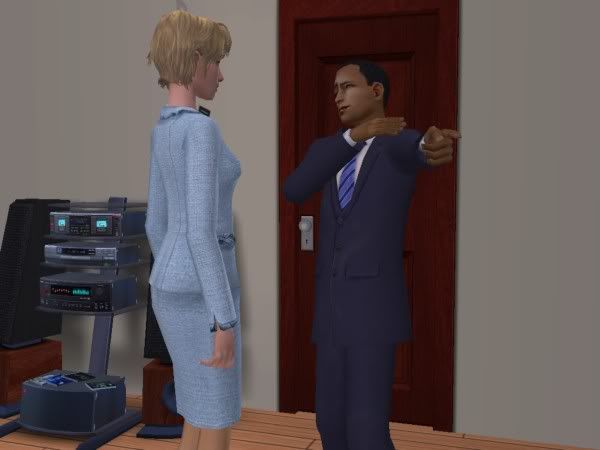 "The door is that way."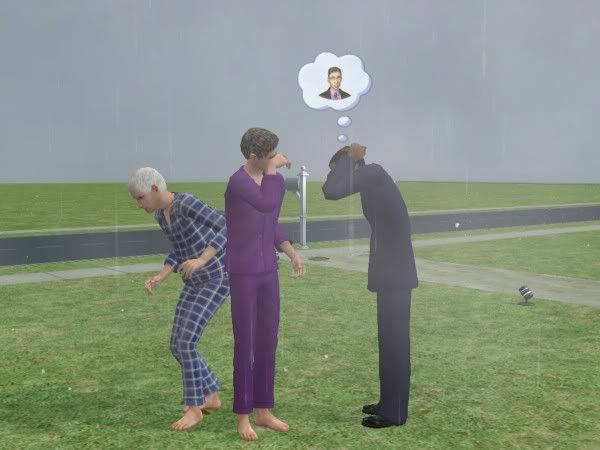 Congratulations, men, you have officially failed.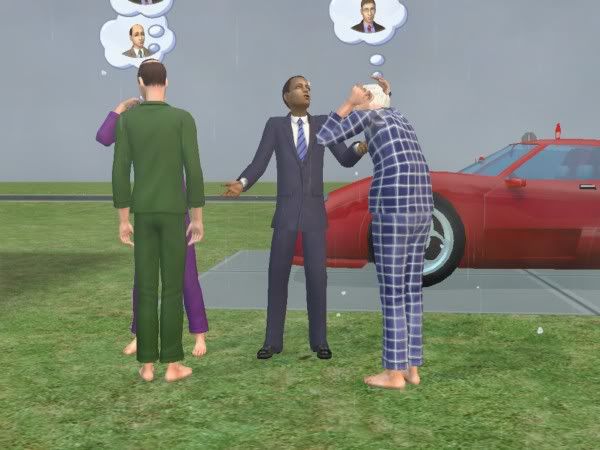 "OMG we're being bombarded by hail! It's leaving dents in our skulls! What could we possibly do?!"
I don't know, maybe go indoors? But no, they stood out there and freaked out for an hour. Basically, this is when things started to go downhill.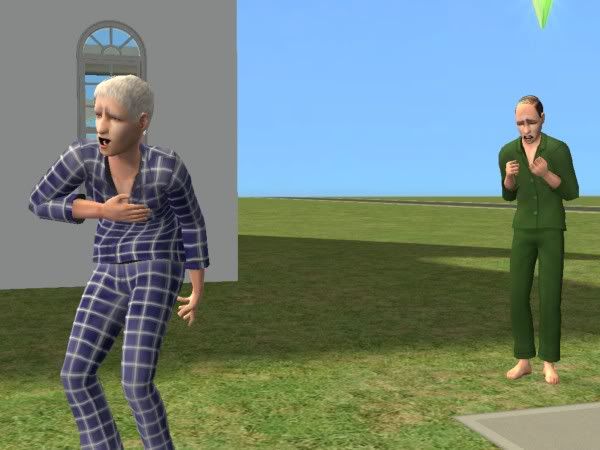 I don't know, one of them's got the flu, and one of them's scared of bugs, or something.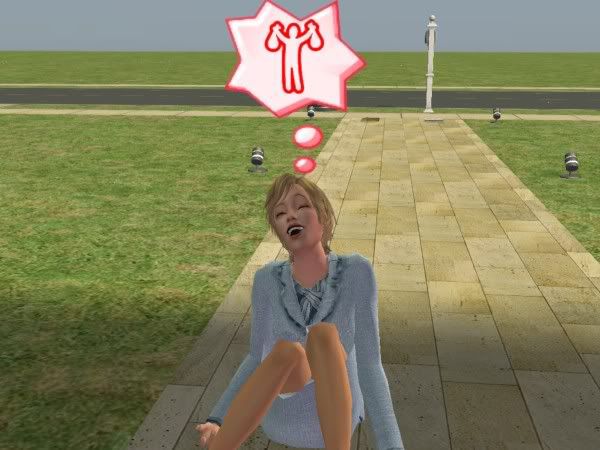 This is about the time Hillary Clinton went into aspirational failure and had a nervous breakdown.
The magical therapist comes and spins some crazy wheel in her face. I don't know, I think she might be beyond help.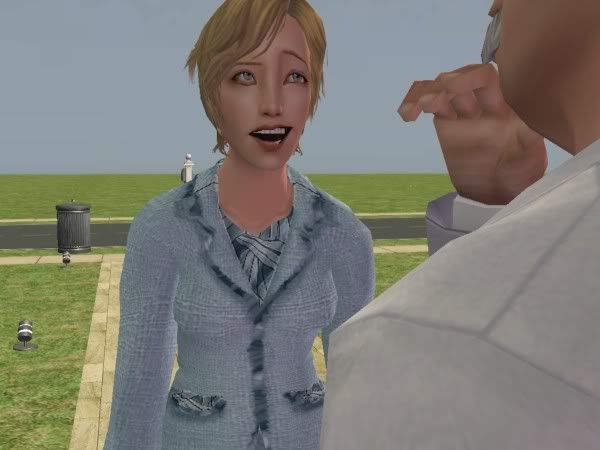 Yeah.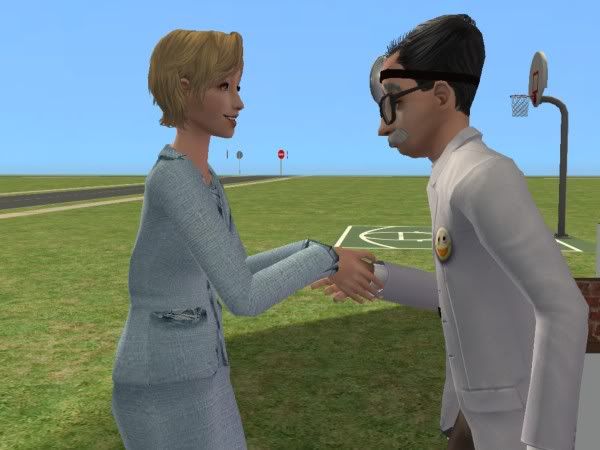 Cured! Or is she?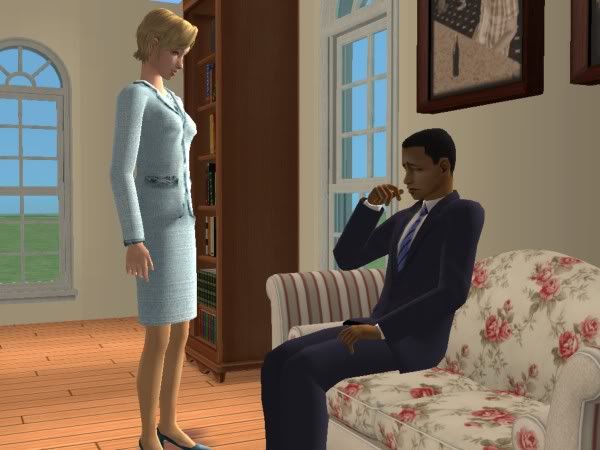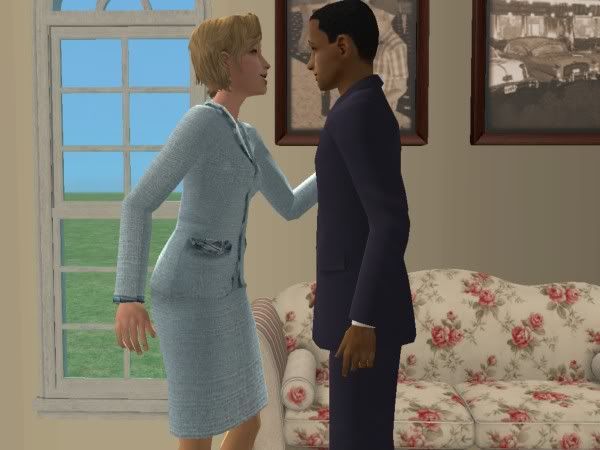 Next thing I know, Barack Obama's sobbing on the couch, and Clinton's all like comforting him.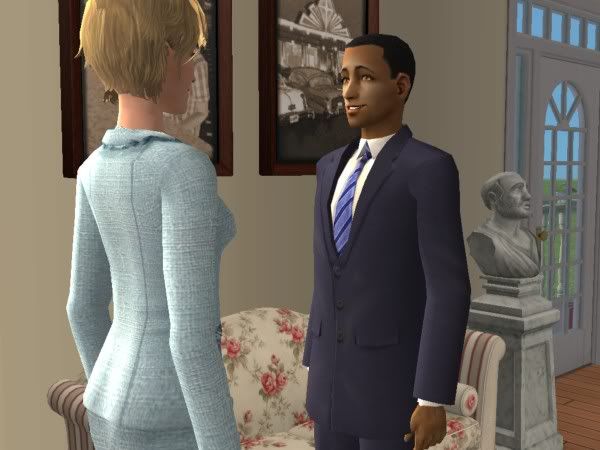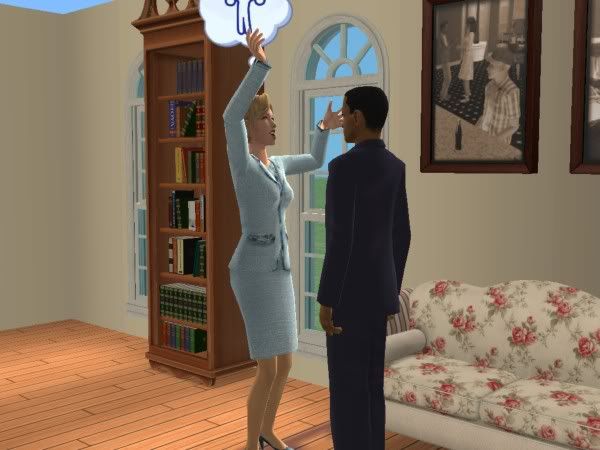 Mere seconds later, she lapses into insanity again.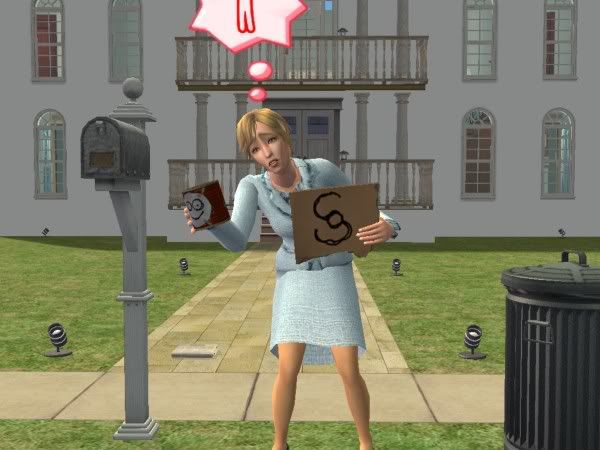 I find her out by the side of the road, begging for donations.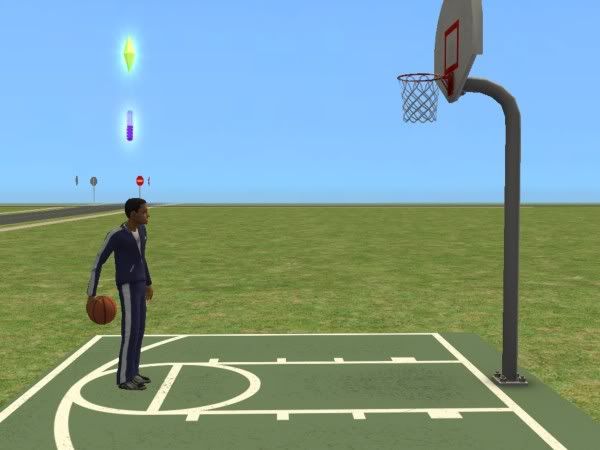 ur doin it wrong!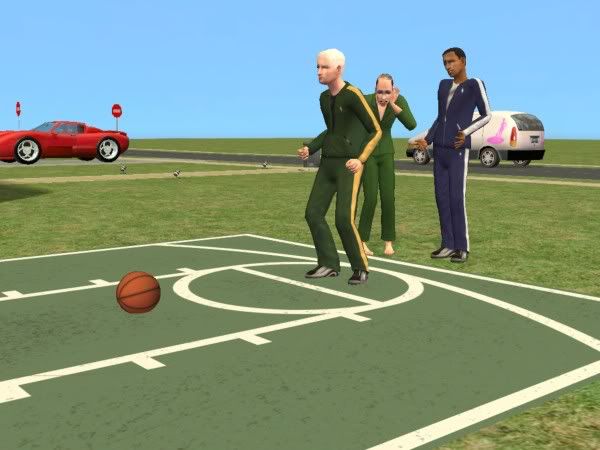 John McCain is doin it wronger, if Obama and Huckabee's expressions are worth anything.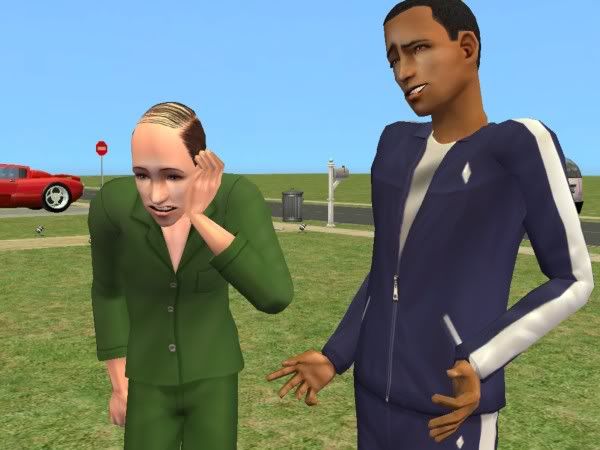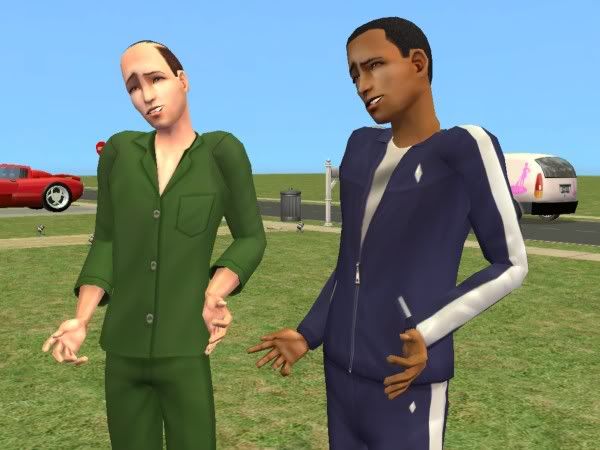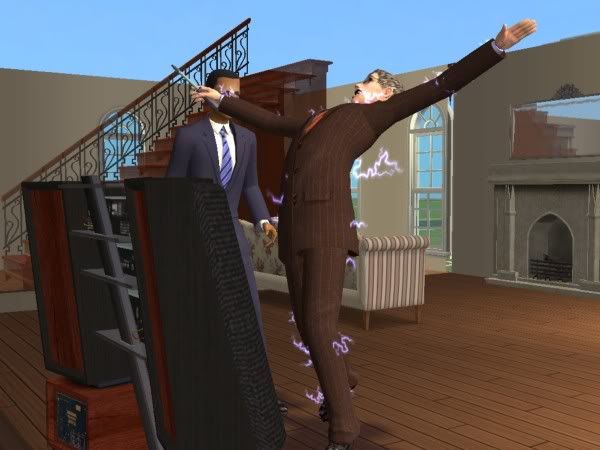 I sent Ron Paul to fix the stereo. Um, oops.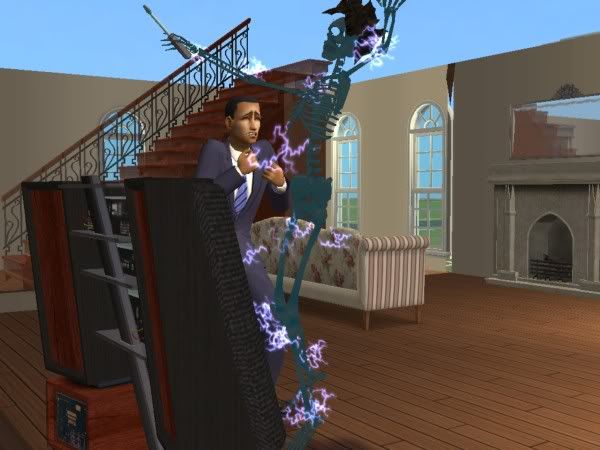 Now we know what Ron Paul truly looks like!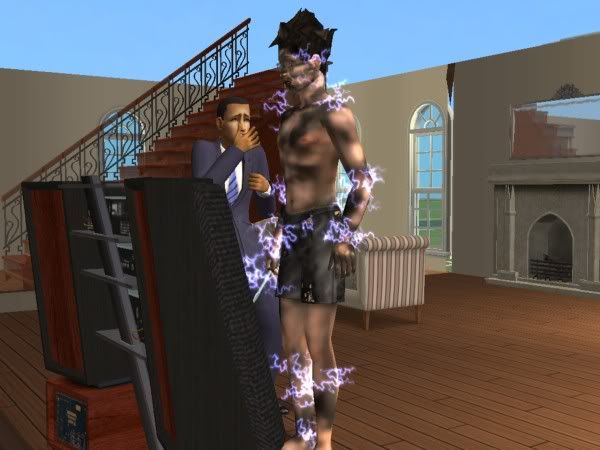 Ouch. Why didn't the free market save you?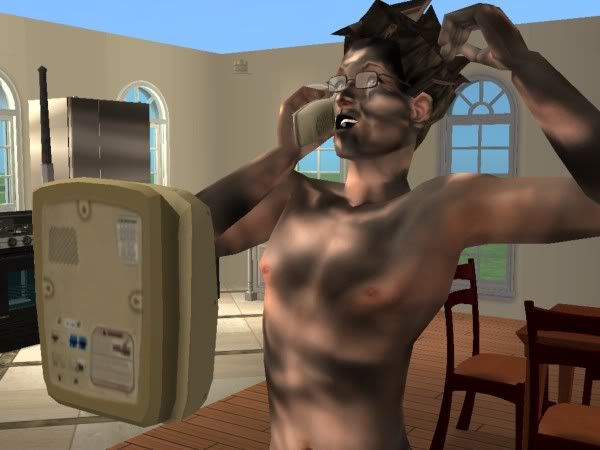 Ron Paul wisely summons a real mechanic.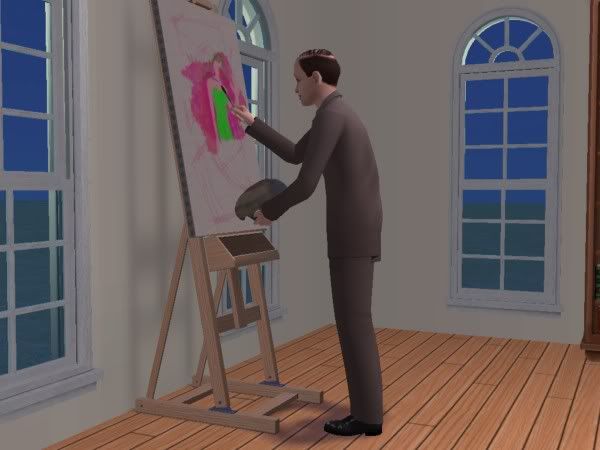 Huckabee has taken over from Romney as the household arteest.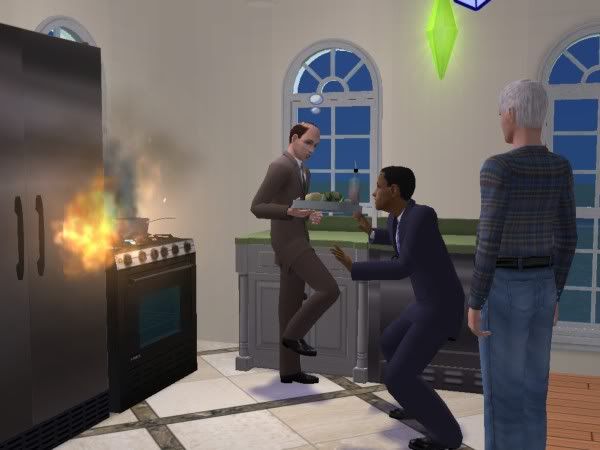 Well, I'm pretty sure Hillary Clinton isn't responsible for this one.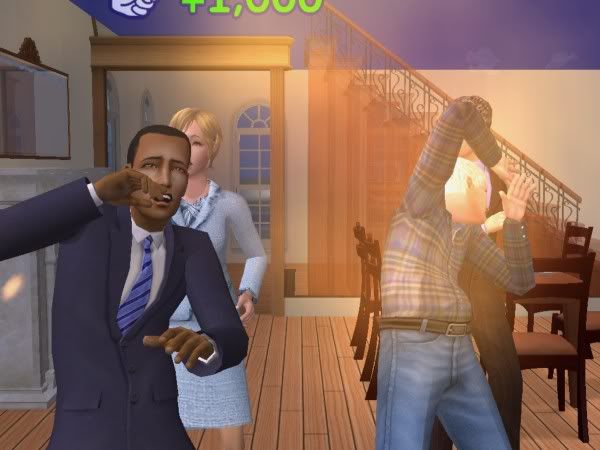 Reaction to catastrophe: blind panic. When a phone rings at 3 a.m. . . .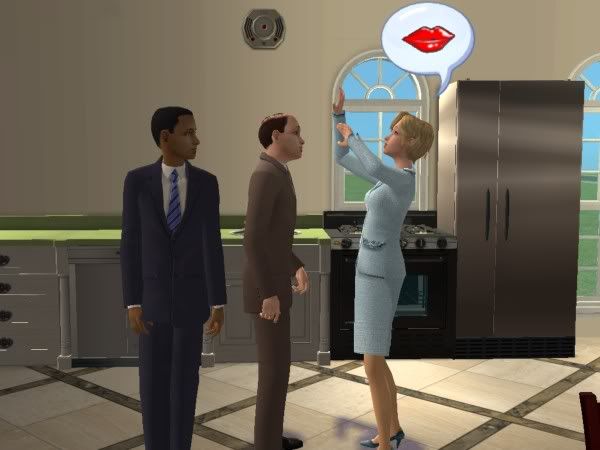 Hillary: I kissed a giant once. He was twelve feet tall! It was awkward.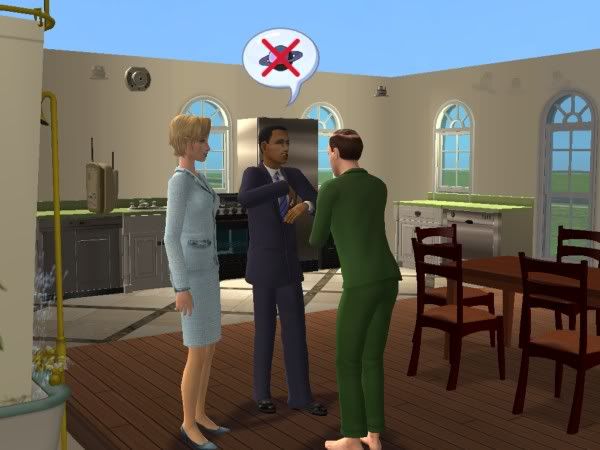 Obama: I am SO SICK of Saturn!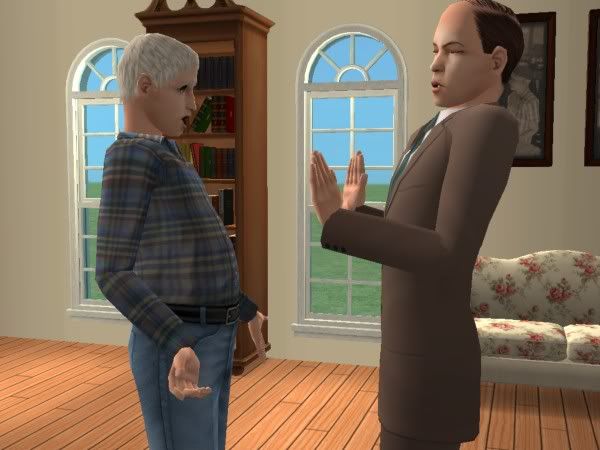 I don't even know what this is all about. They're probably having an argument about elephants or something.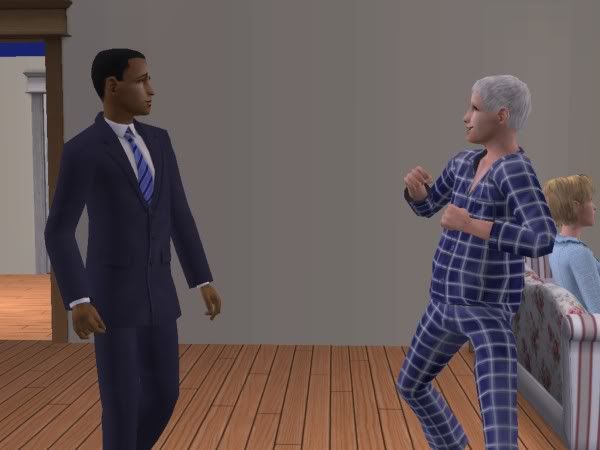 McCain: Hey Barack, are you hip to my jive?!
Obama: Not really.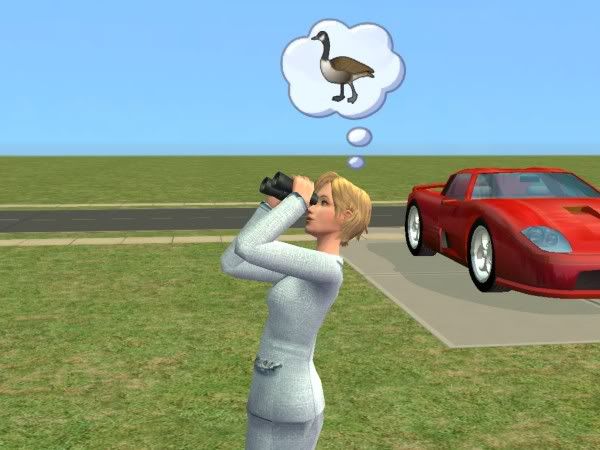 Watching for Canadian spies.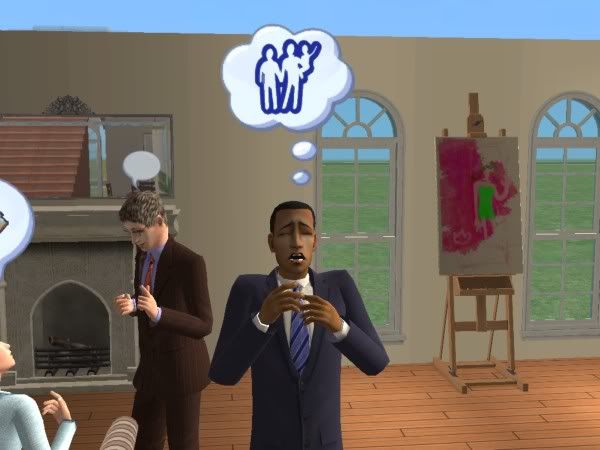 I come back to find this truly tragic scene.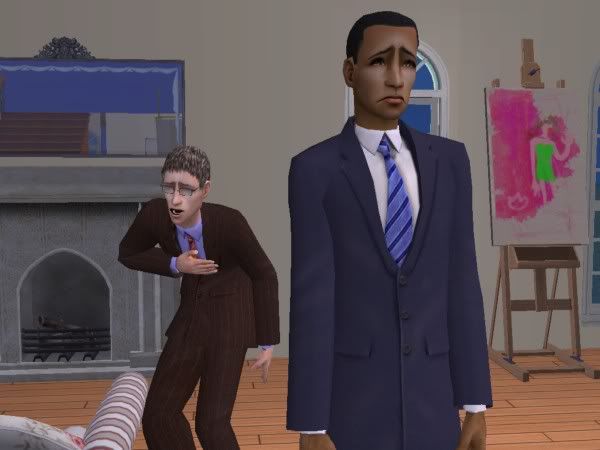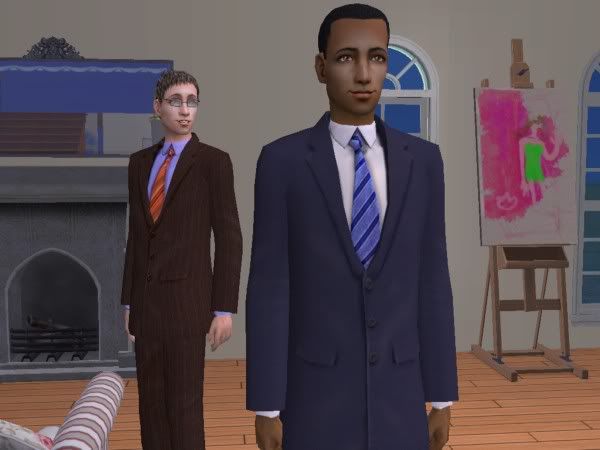 Okay, forget bipartisan, this house is bi
polar
.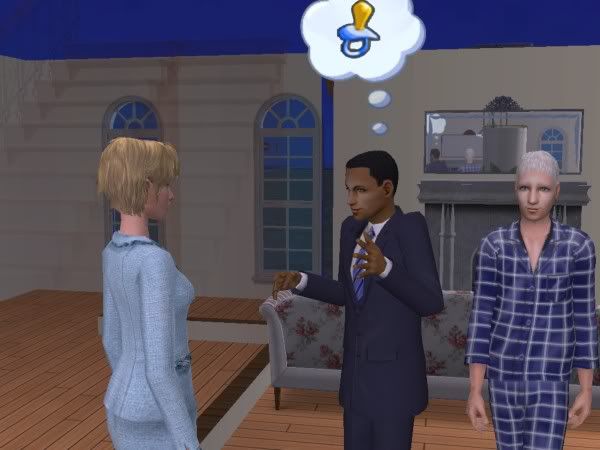 Barack Obama decides to lecture Hillary Clinton about the dangers of babies.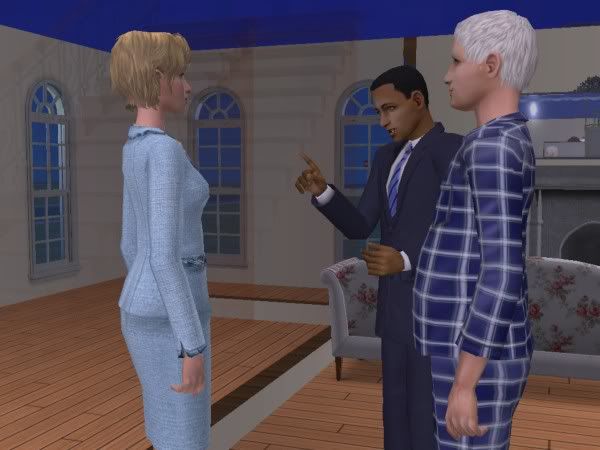 "Babies are a lot of work, Hillary! You just don't realise! If I find out you're having a baby, I'm going to be really mad at you!"
Um, I think she's a bit too old for that, Barack. And, lol, too late.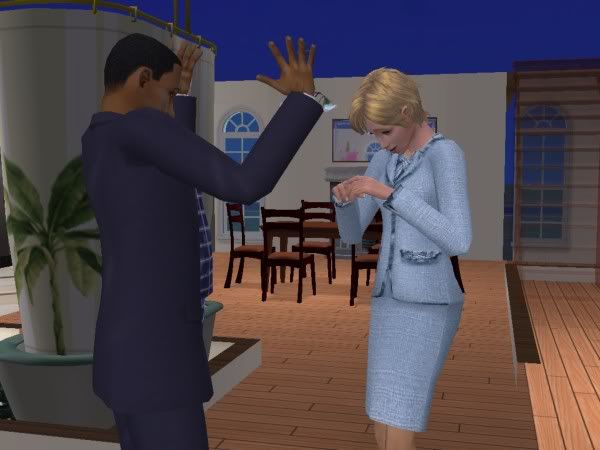 Obama: Promise me to ALWAYS stay away from babies!
Clinton: Okay, I promise...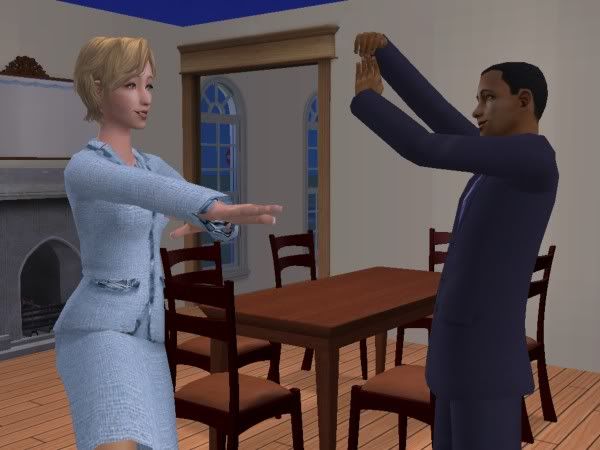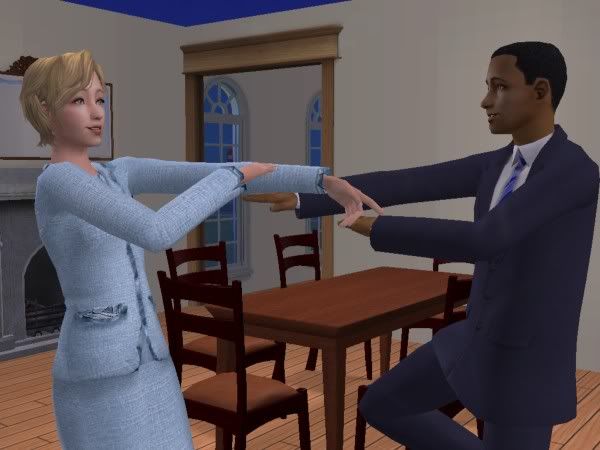 I'm hoping for a repeat of this tonight, in real life. Live on CNN, if possible.
The Republican version of this little 'jam' was going down in the next room.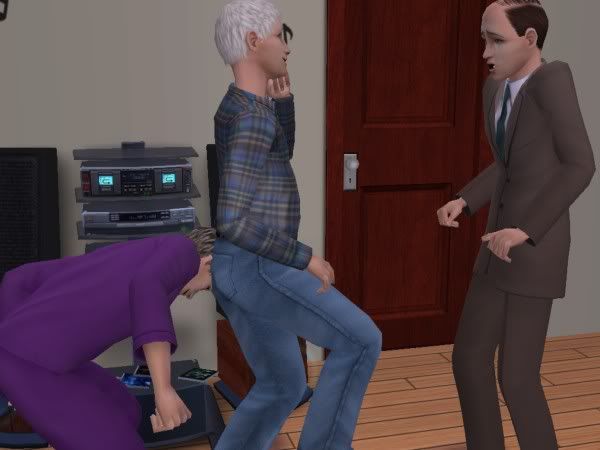 I believe that Mike Huckabee's expression makes this picture, and there is no need for me to say anymore.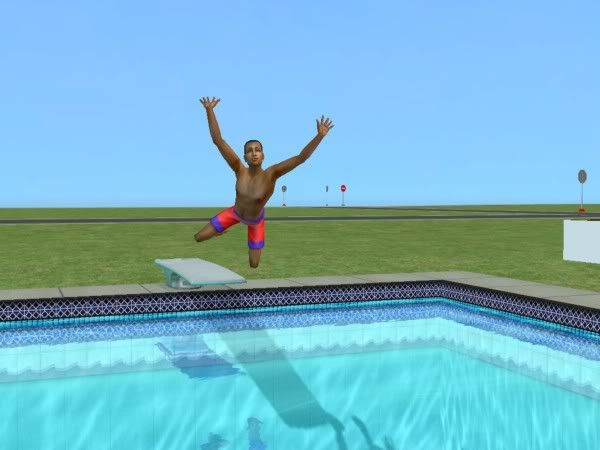 HOPEFULLY I'LL BE KICKING SOME OF YOU OUT NEXT TIME I PLAY THE HOUSE! :D