sandtree
This will be the final Sims update before the election.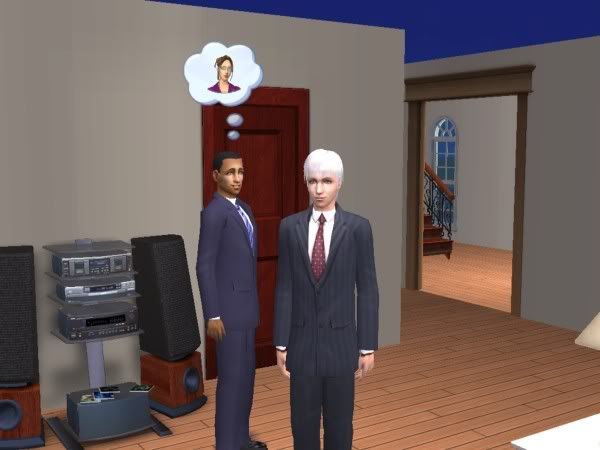 I think Obama's slightly confused.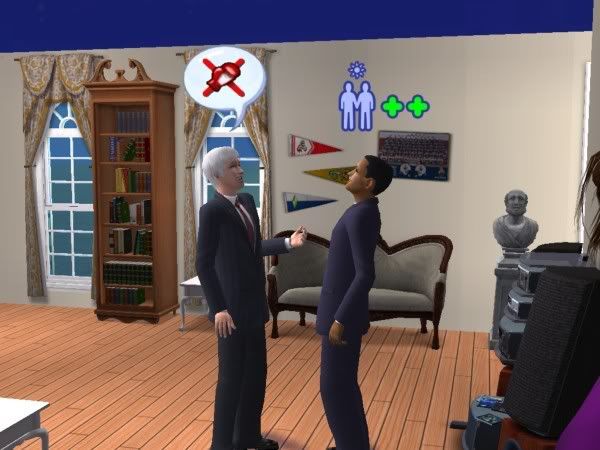 Biden: Remember that time John McCain kicked your ass?
Obama: omg lololol that was hilarious!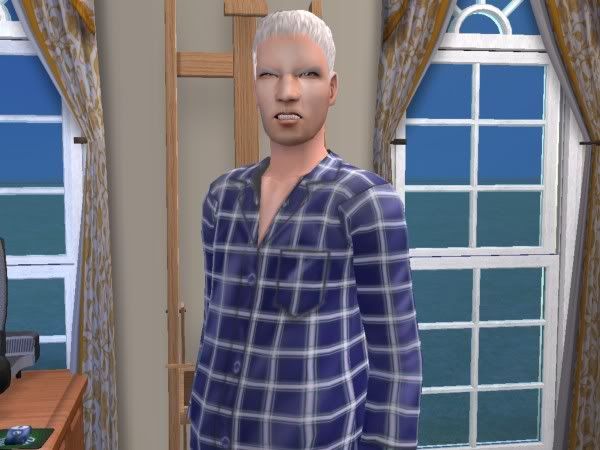 I have no idea what's going on, but John McCain clearly isn't happy about it.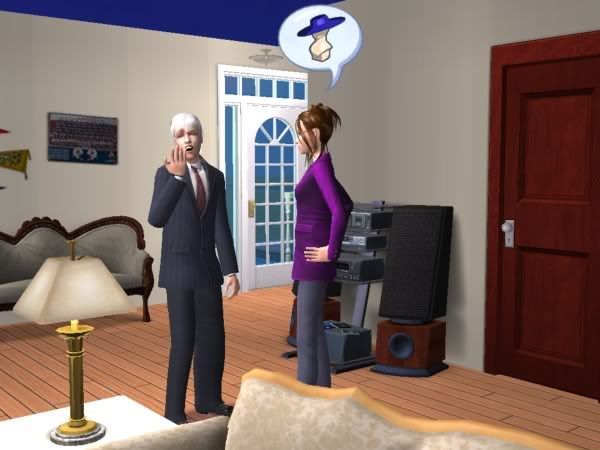 Palin: So I was going to wear a blue hat to the Republican convention, but then Mitt Romney was like, "Sarah, who wears hats anymore? That is SO 1938."
Biden: YAWN.
Palin: Ew, why am I even talking to you? You don't know hats.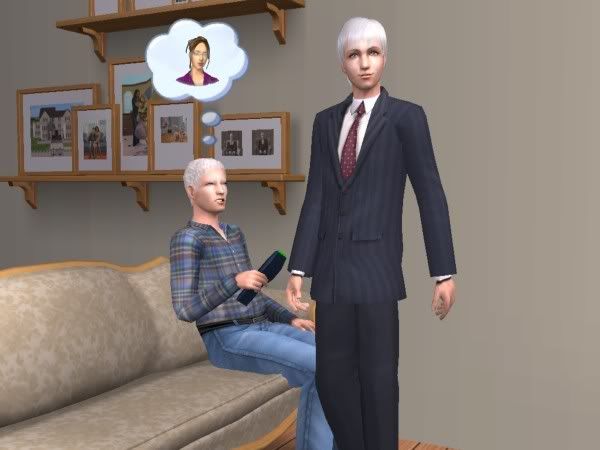 I don't know, something just seems wrong about this.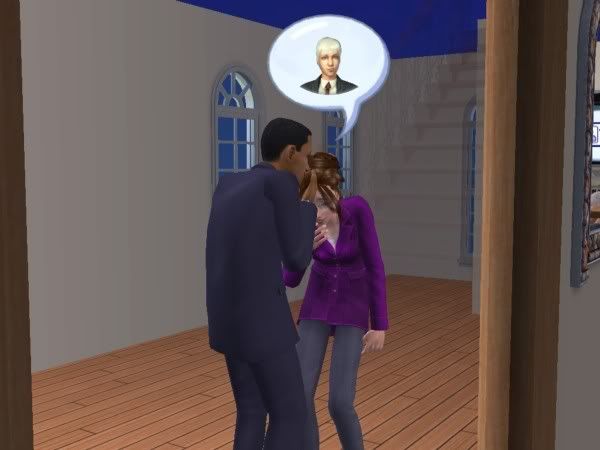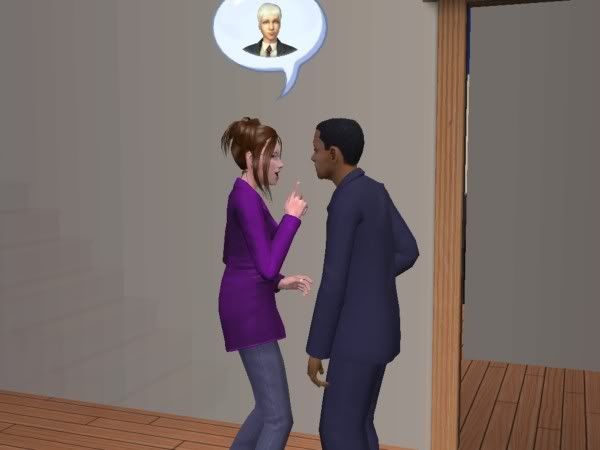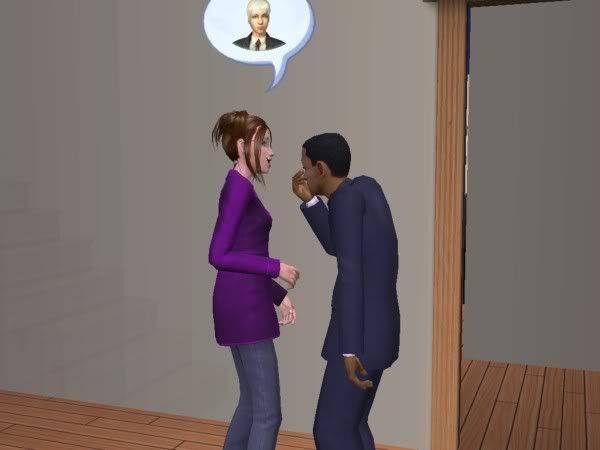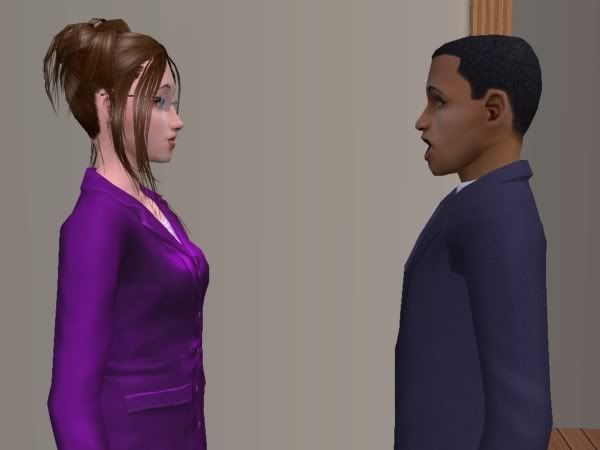 BETRAYAL. Um, again.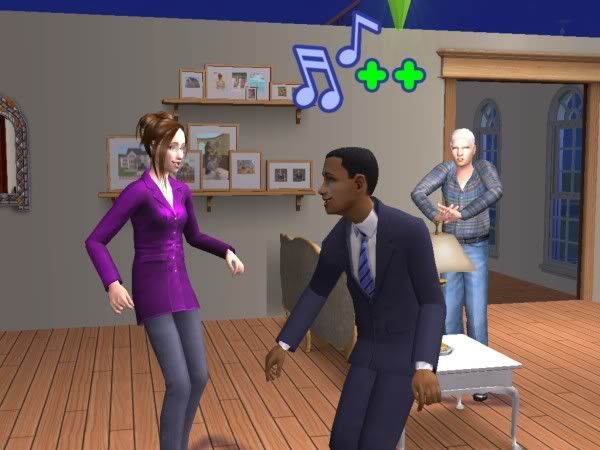 Uh oh.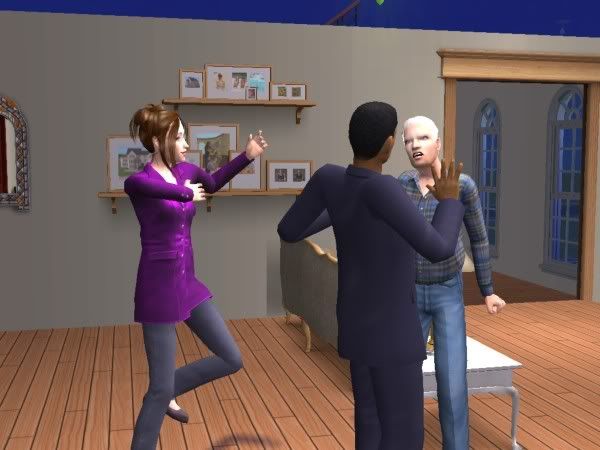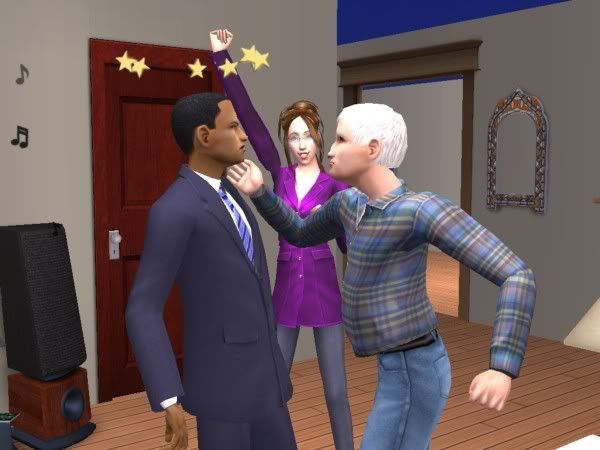 McCain: How dare you break it down with my VP candidate?!
Palin: Wooo!
Palin: Hey guys, why so serious?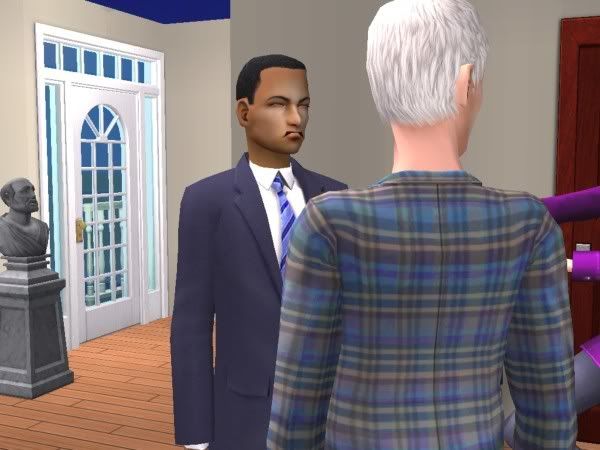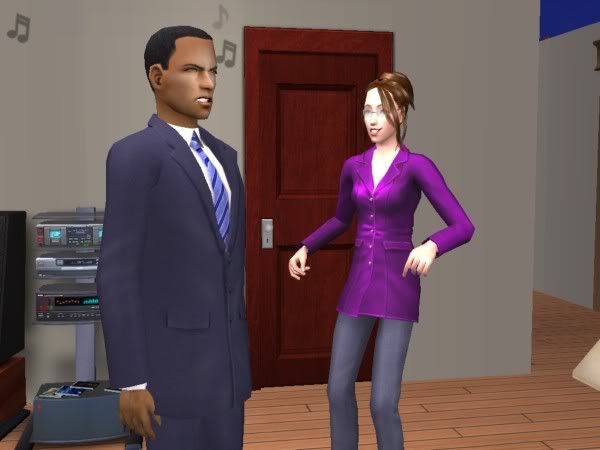 Oh, the drama.
Palin: Hey, Joe... don't tell anyone, but I think John is losing it.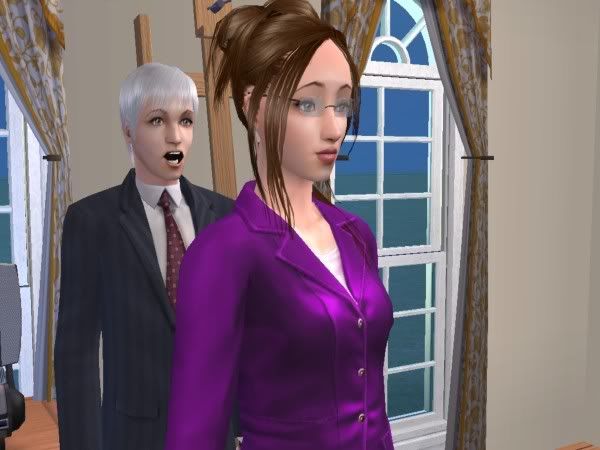 Biden: WHAT!
Palin: *Innocent*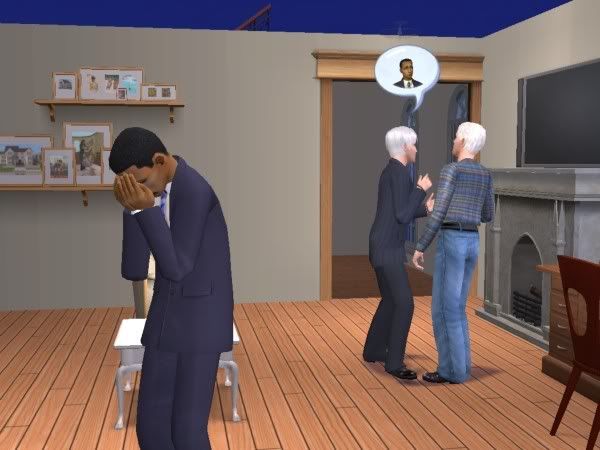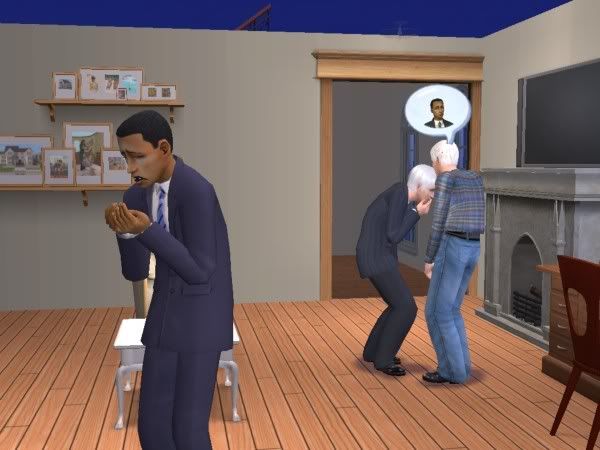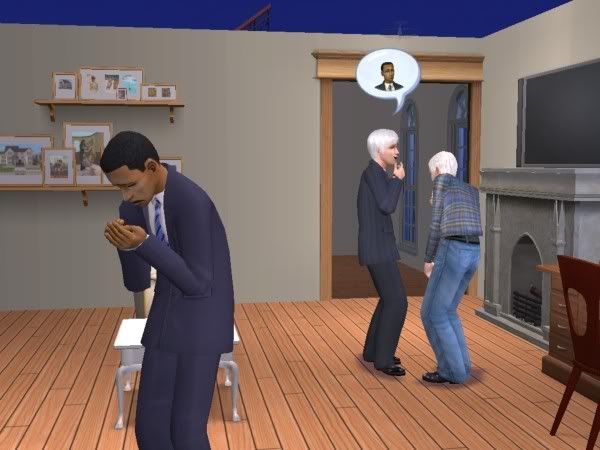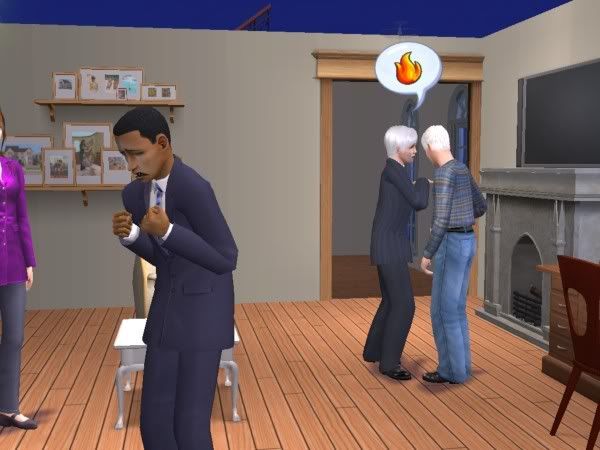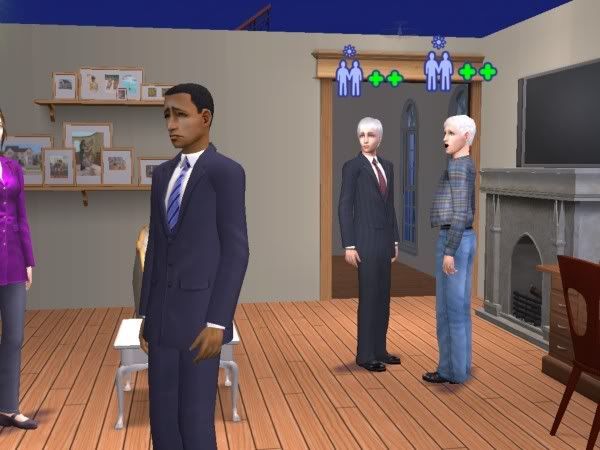 :(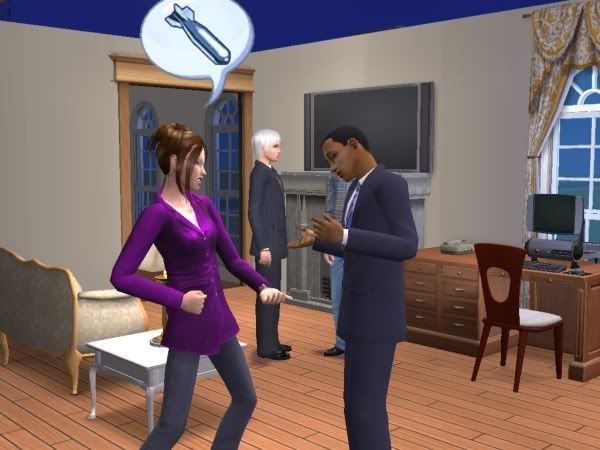 "So I say, nuke 'em all!"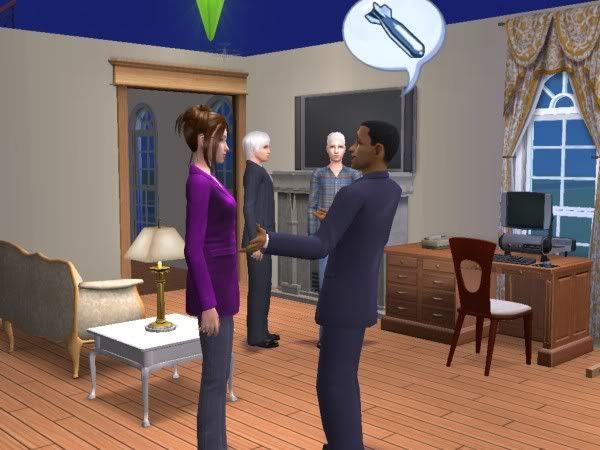 "Hey, awesome idea!"
"Now, when it comes to talking to the American people, I mean, do we really need to?"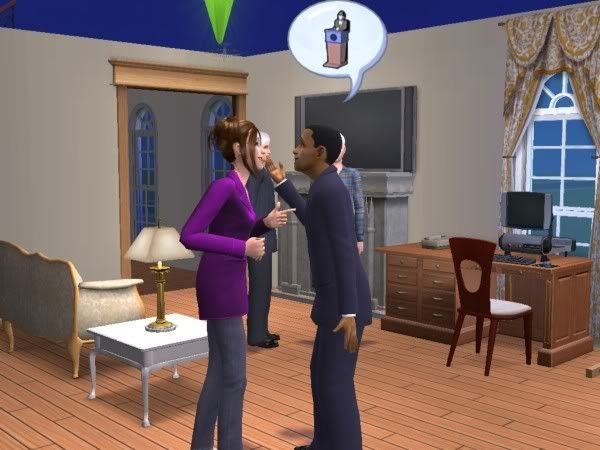 "Well, I don't know, I think it's a good -- "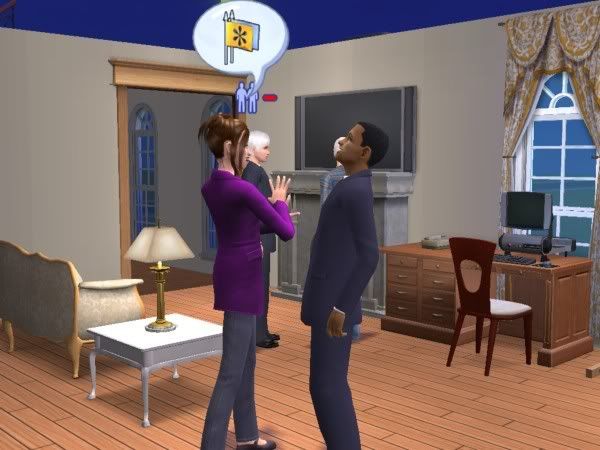 "I'm just sayin', they don't need to know about foreign policy. They just need to know why the other guys are the bad guys. Then we can nuke 'em."
"WoooOOOOoooOOOOooo, craaazy foreign policy!"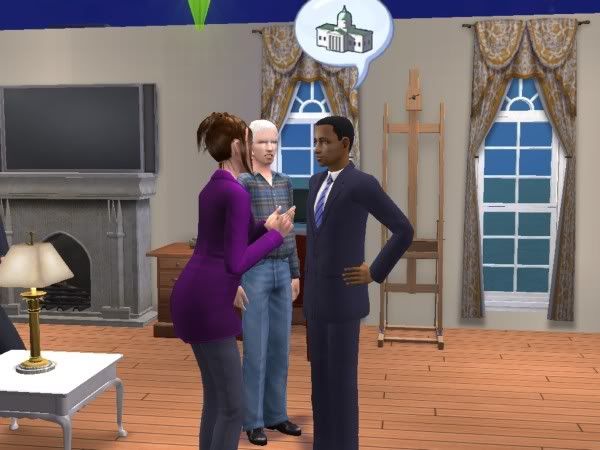 Palin: Honestly, I don't think we're gonna win, but you'll see me again in 2012!
McCain: Dammit, Sarah!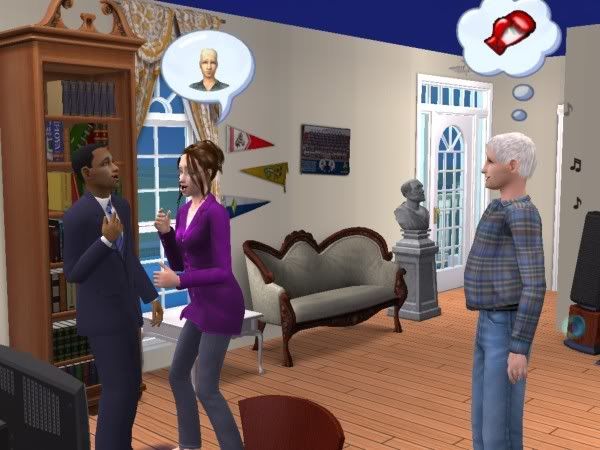 "Hey Barack, remember when you kicked John's ass?"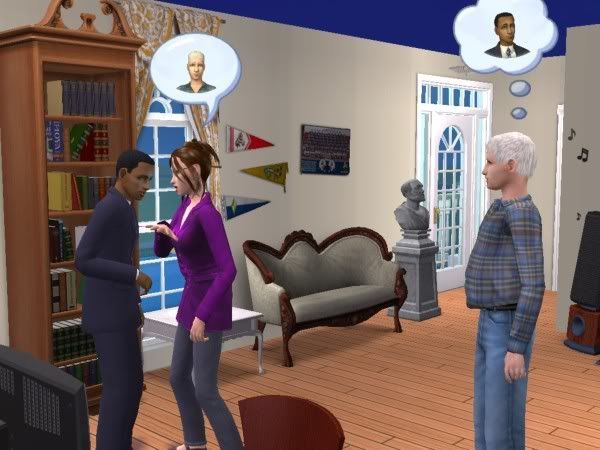 Obama: Dude, he's right behind you.
Palin: lol yeah right.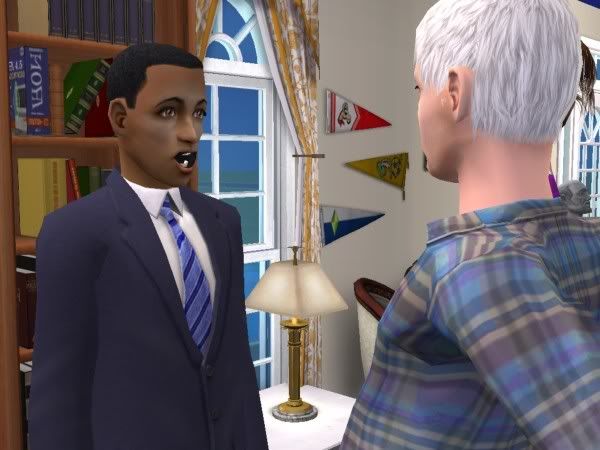 McCain: What wrong, Senator Obama? Why do you have that shocked look on your face? Were you, perchance, gossiping with my running mate about kicking my ass?
Obama: . . . :O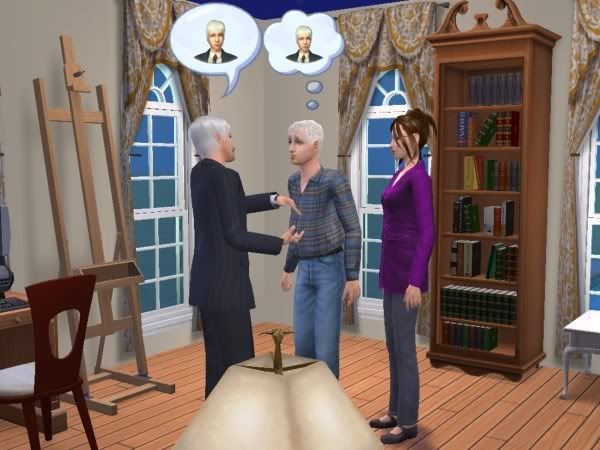 Biden: You gotta admit, I am pretty much the best senator out there.
McCain: You know, Joe, you're right!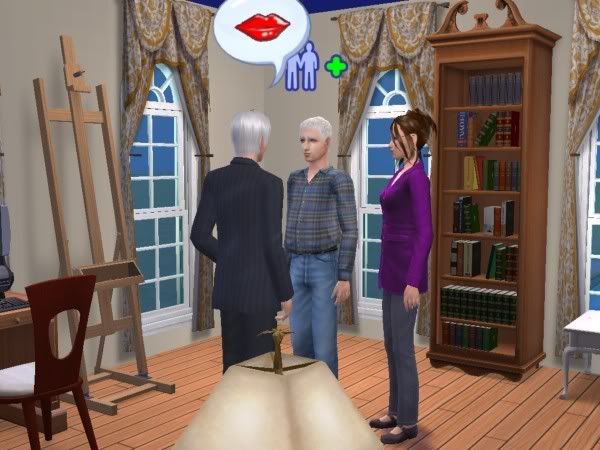 "So, John, have you ever... you know... kissed a lady?"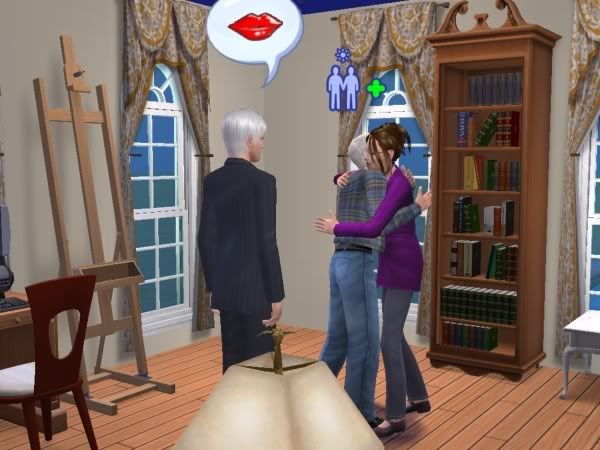 "...John?"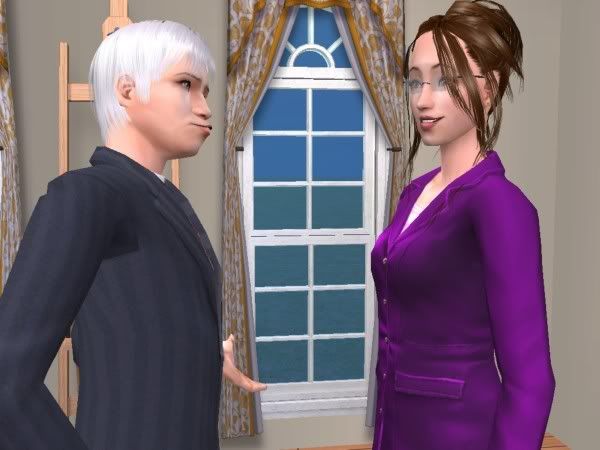 I don't know what's going on in this picture, I just really like it.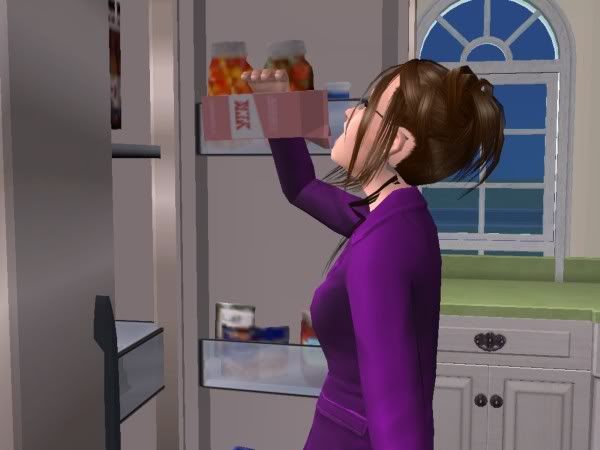 Does Sarah Palin have the experience and judgement to lead in a time of crisis? She can't even pour herself a glass of milk.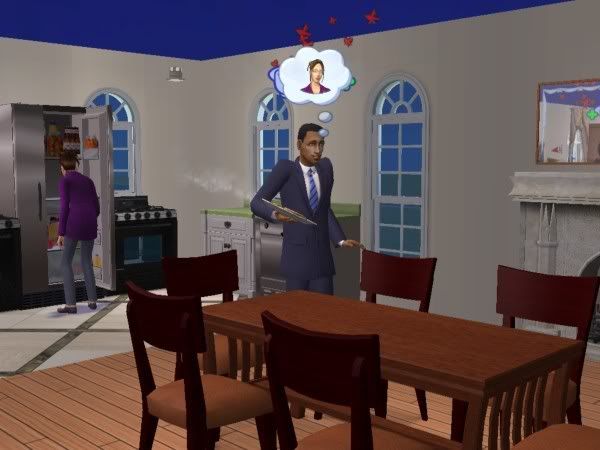 Obama: Ugh, way to go, Sarah! Now no one else can drink that milk!
McCain: Barack, this omellette is delicious!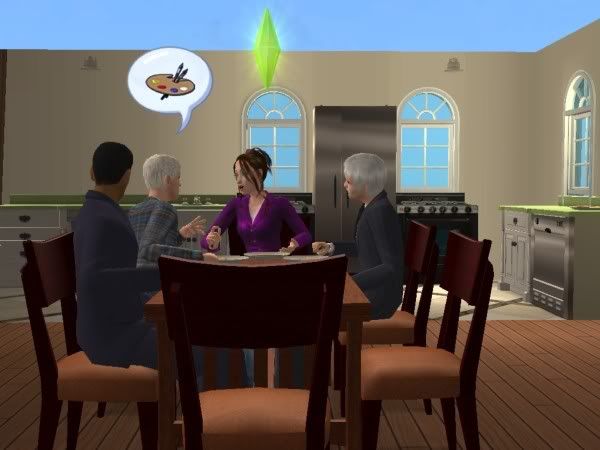 McCain: Sarah, Barack is an amazing chef, give him an egg and a frying pan, and he'll make a work of art!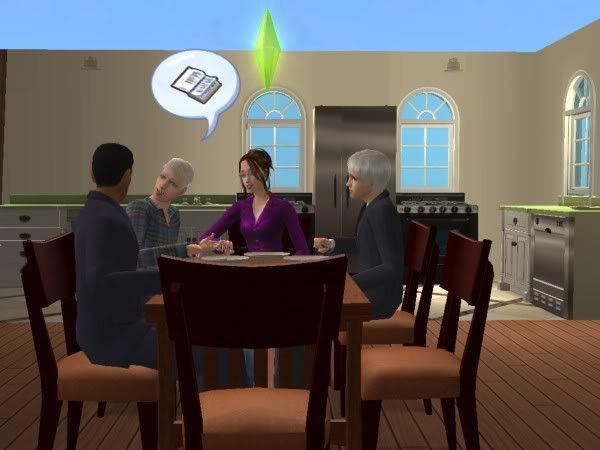 McCain: Seriously, have you ever considered publishing a cookbook?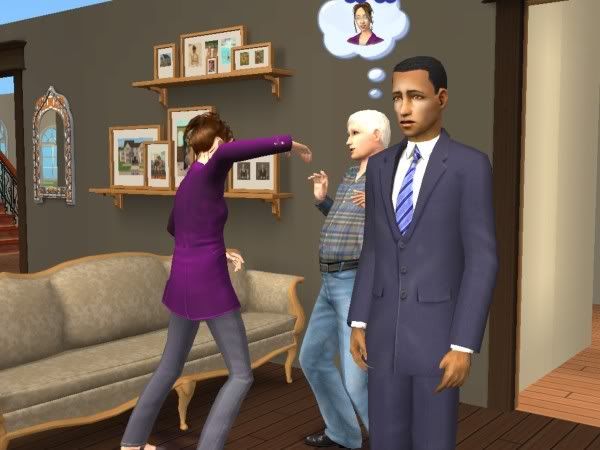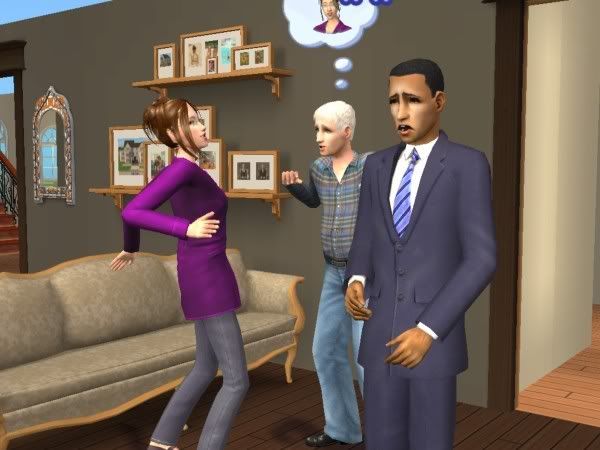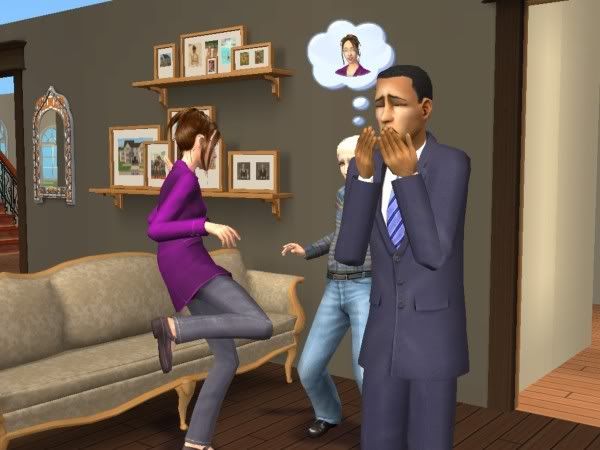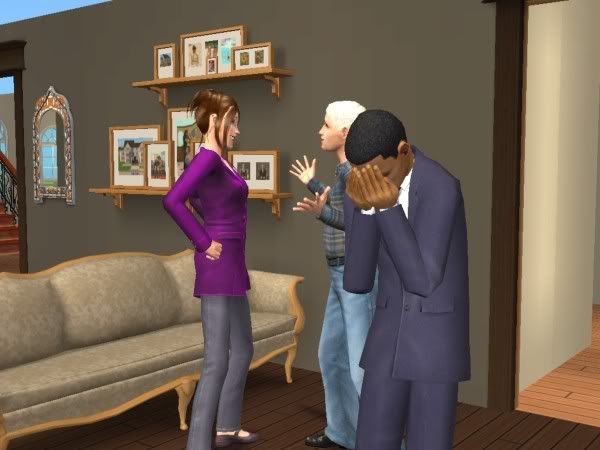 Sigh.
Biden: How about... world peace?
Palin: Meh.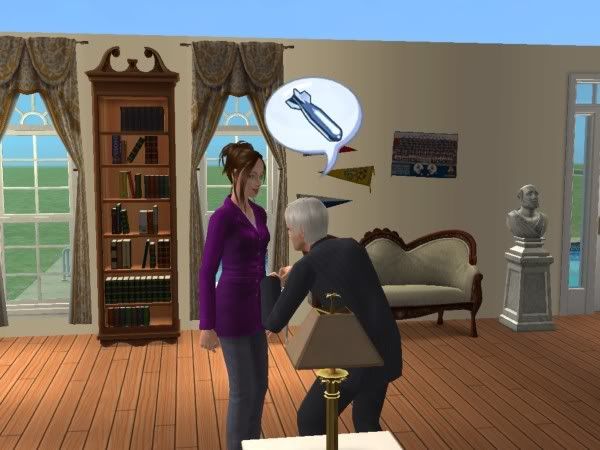 Biden: Okay, well, what if we... NUKE 'EM?!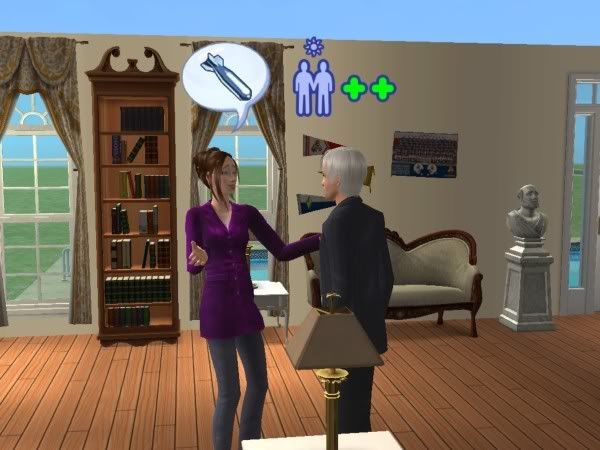 Palin: NUKE 'EM!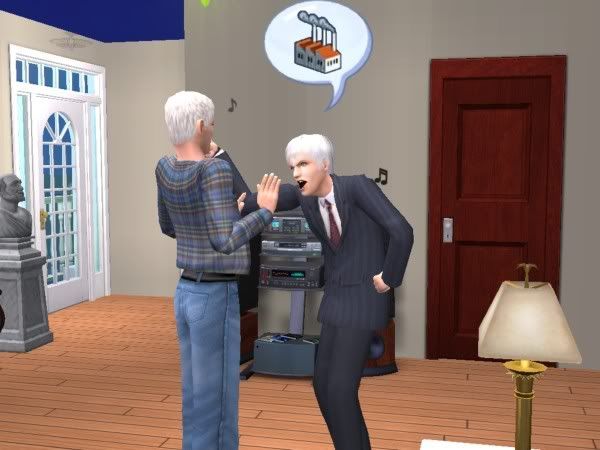 Biden: How DARE you not get tough on climate change?!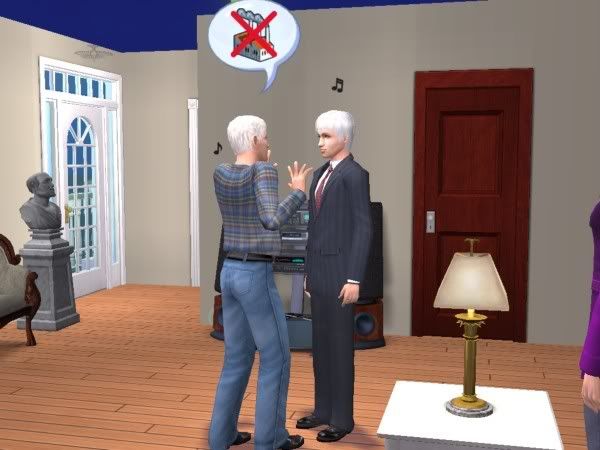 McCain: Don't talk to ME about climate change!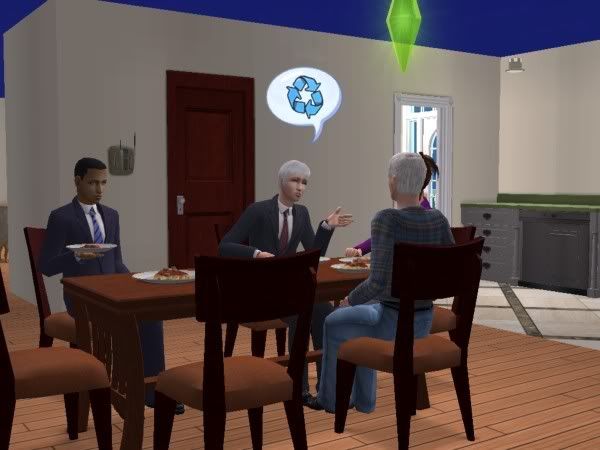 Biden: Recycling is important, John.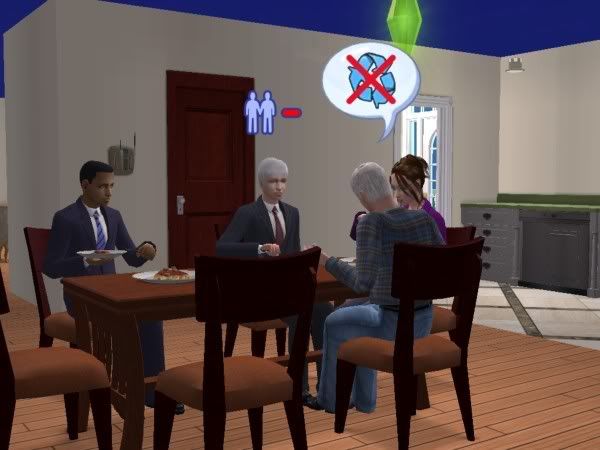 McCain: RECYCLING IS FOR LOSERS.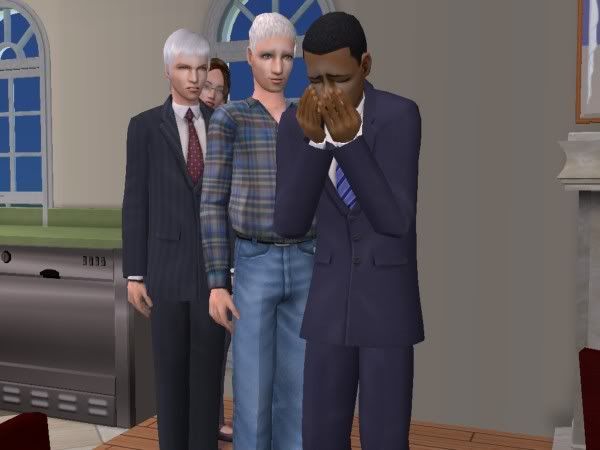 Um.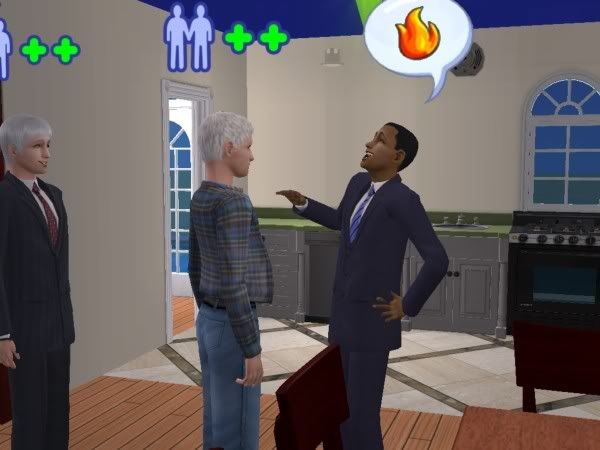 "OMG, John, you know what would be hilarious? If you set the stove on fire later on in this update!"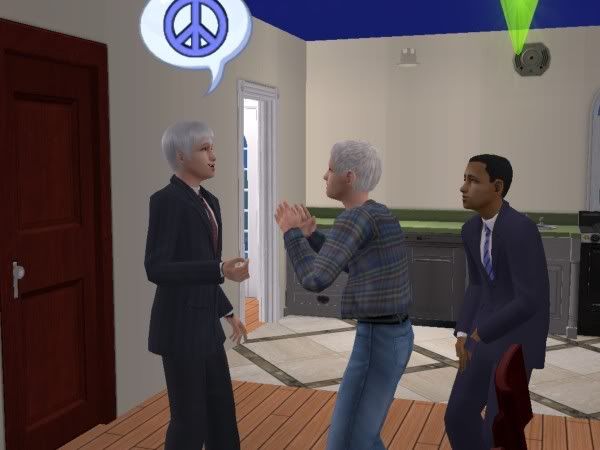 Biden: What do you think of... world peace?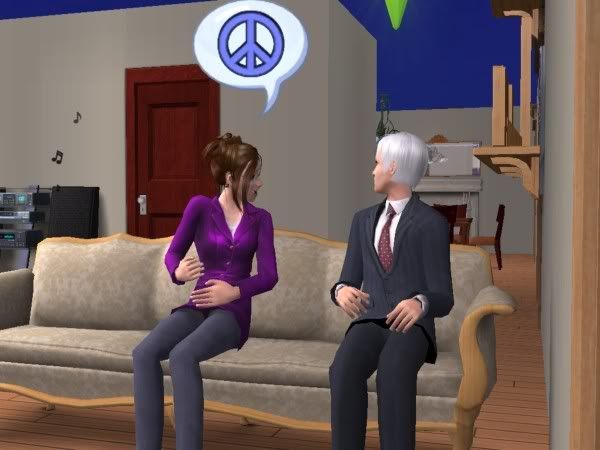 Palin: So I heard you talking about world peace.
Biden: Uh huh... *Staring over her shoulder*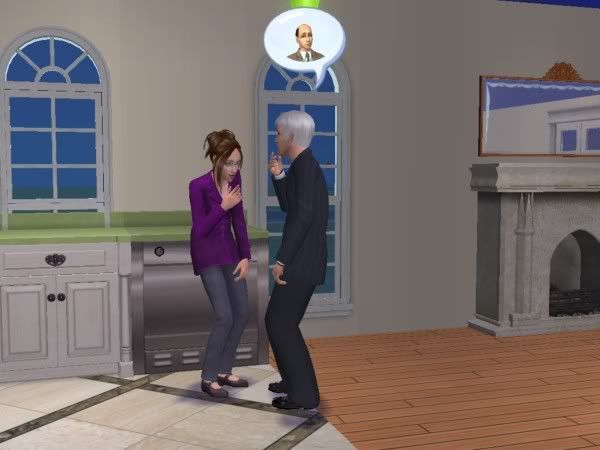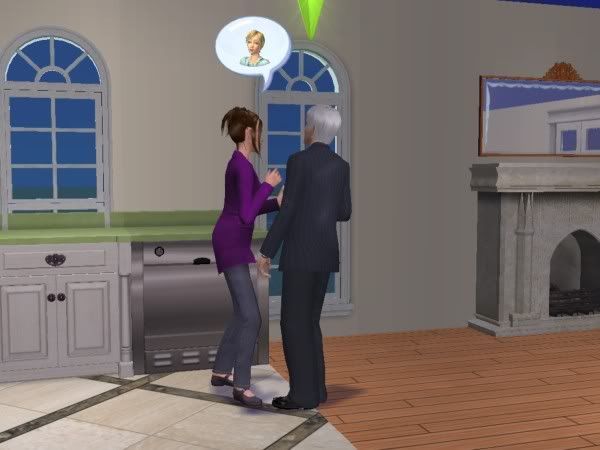 How can they gossip about people they've never met?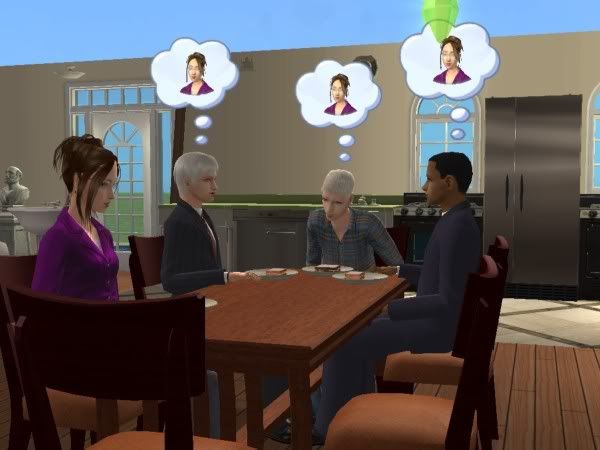 She makes quite the impression.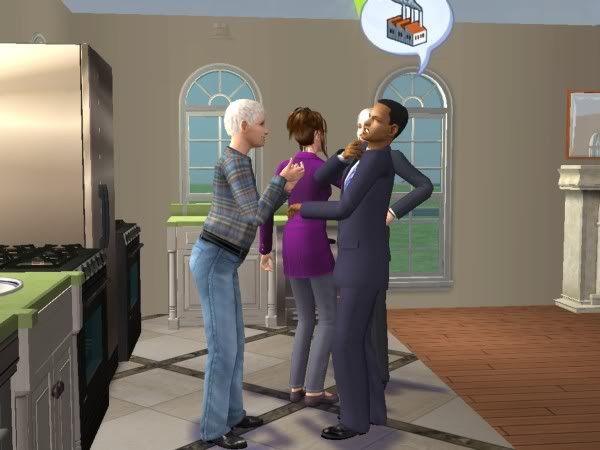 Obama takes up one of Biden's causes (the other cause is world peace).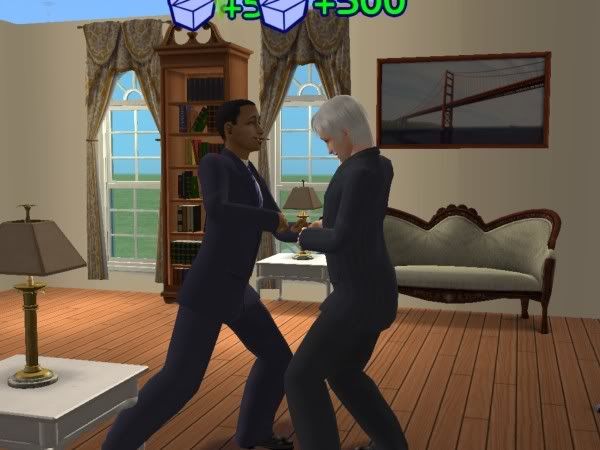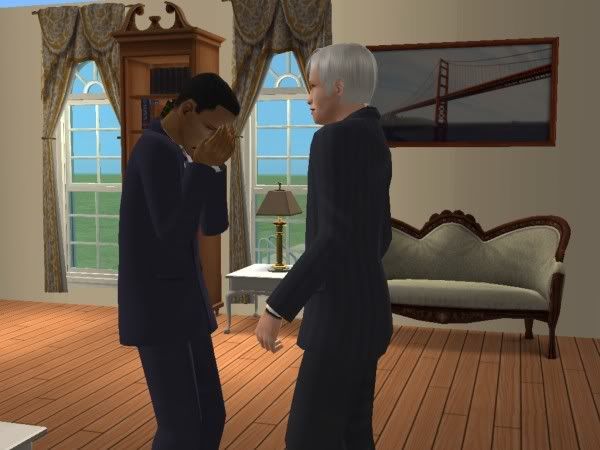 I think he needs some serious psychiatric attention.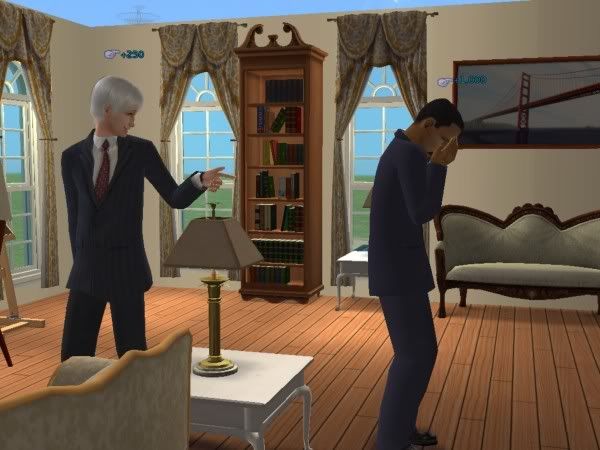 Biden: 'sup?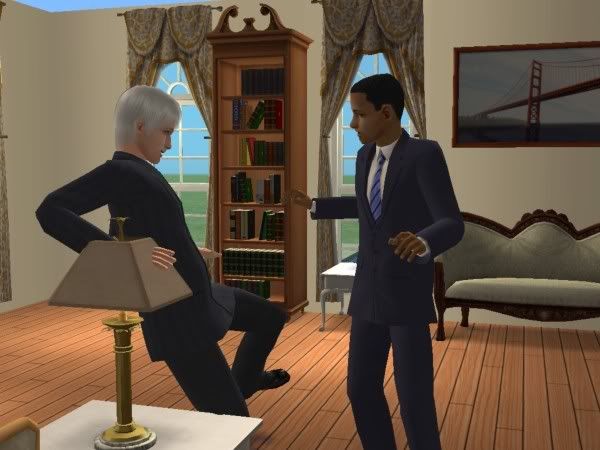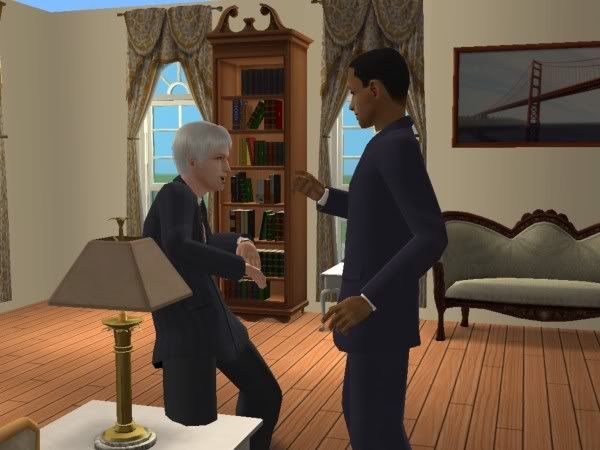 "Hey Barack, this'll cheer you up!"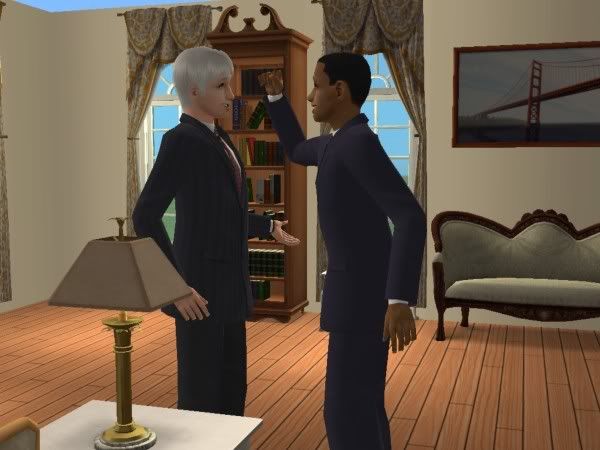 Obama: Wow, awesome!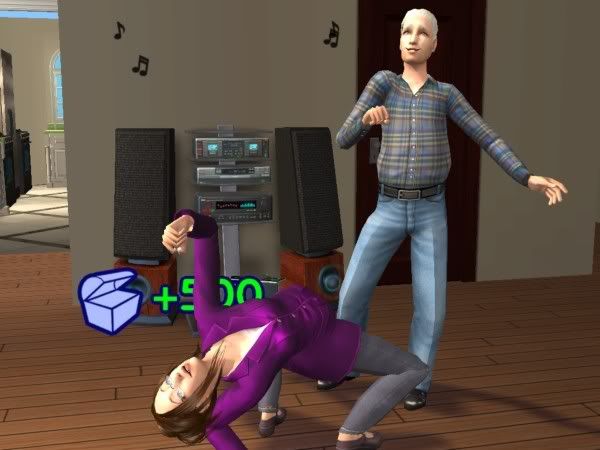 "Oh yeah? Look over here! WE'RE AWESOMER!"
Biden and Palin chit-chat while McCain does all the hard work.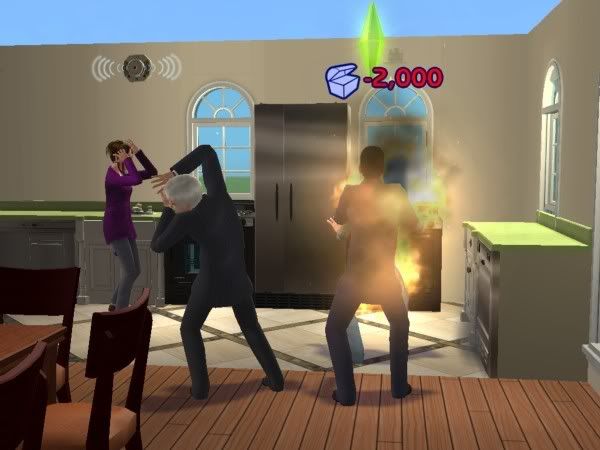 Perhaps out of revenge, he attempts to burn down the house.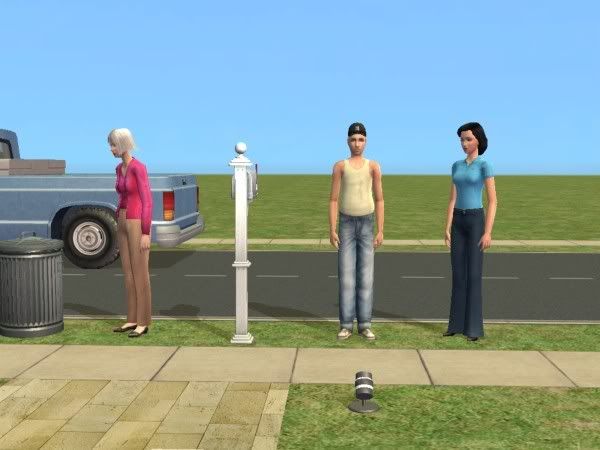 Who are these people, you ask? They are the Undecideds. People who have, for some unfathomable reason, still not made up their minds about who they're supporting, this late in the race. I moved them into the house so that the candidates could try and win their votes.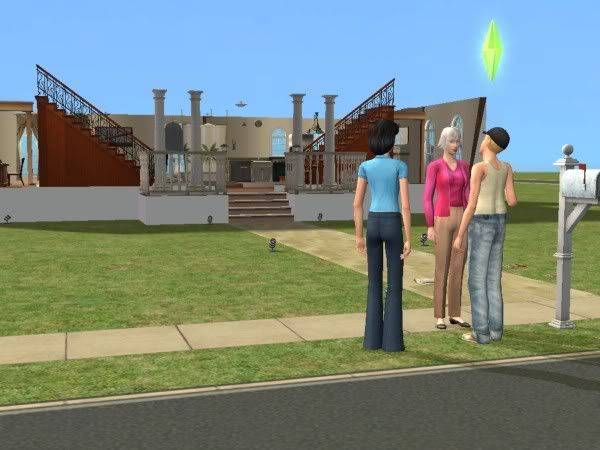 You've got Joe, Jennifer, and the old lady whose name I can't remember, so I'll just be calling her random names for the rest of the update.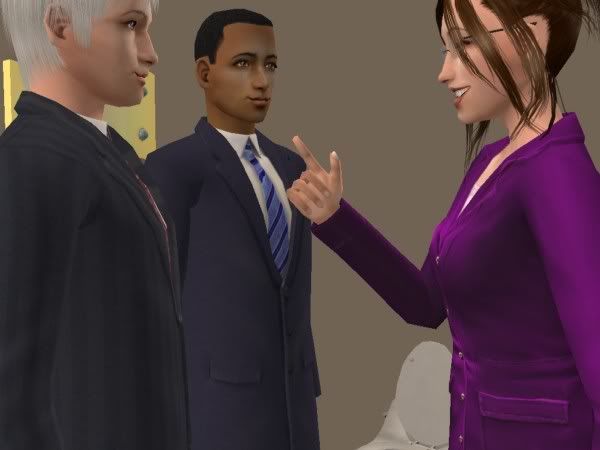 Fail #1: The candidates loiter around the house while the undecided voters are left out on the lawn to their own devices.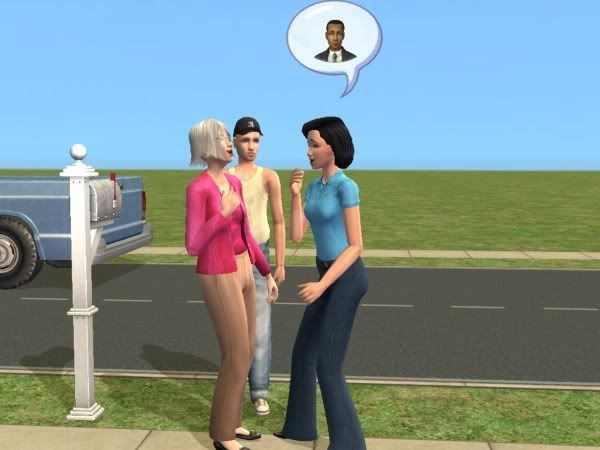 Jennifer: I heard Barack Obama was a terrorist.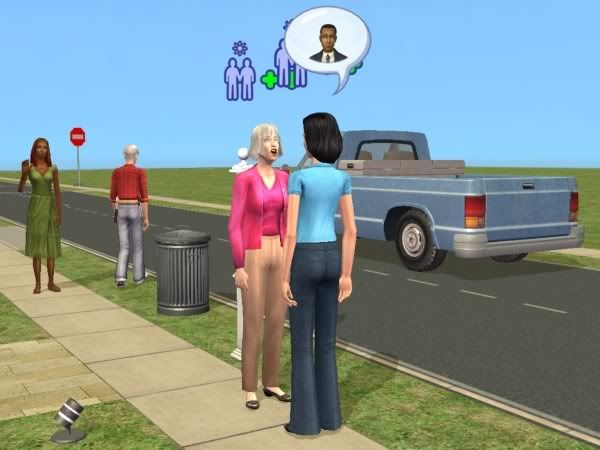 Ethel: I heard he's black!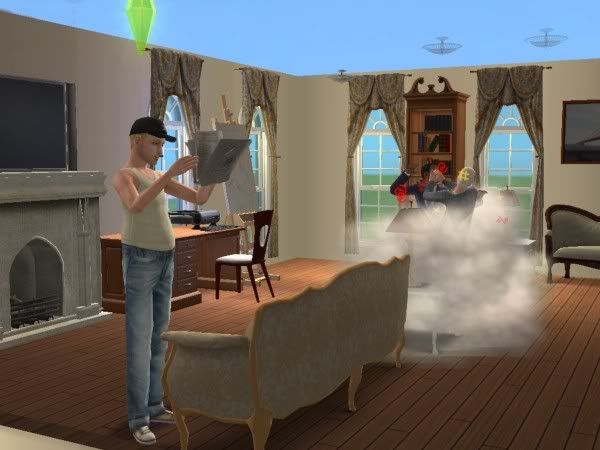 Joe is the first to enter the house, just as a fight erupts. Great timing, guys.
No, Sarah. And Biden, you can't stop dancing for like two seconds so that you can maybe get out of the middle of that brawl?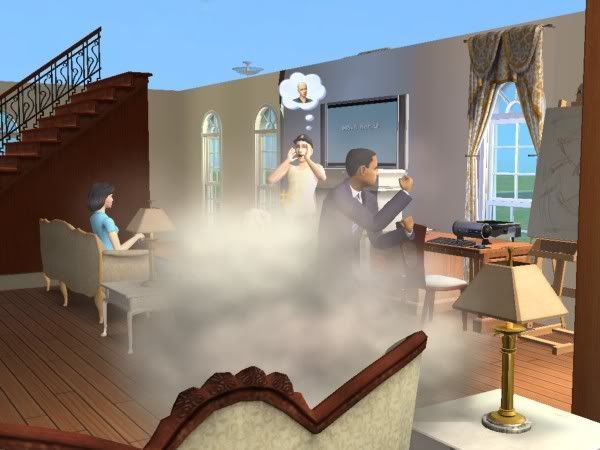 Maybe Joe is not so undecided.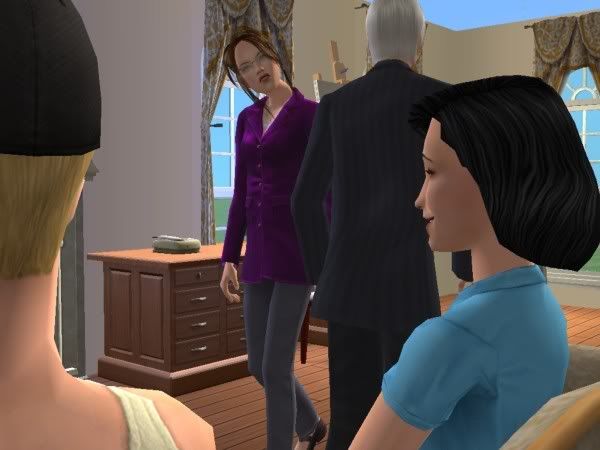 Sarah Palin is apparently not happy about having to talk to undecided voters.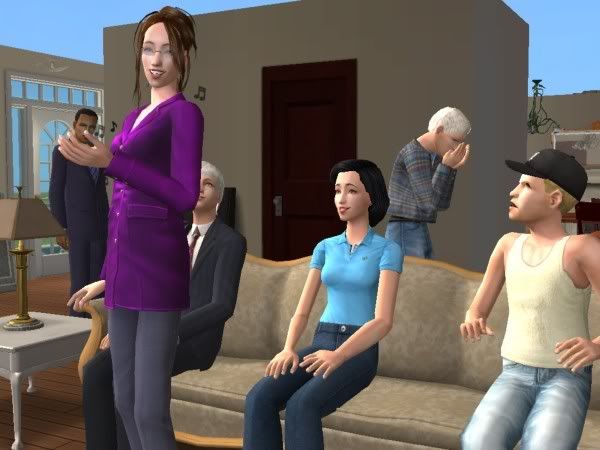 "Well, I'm just an average hockey mom!"
"Do they have a hockey rink in the White House?"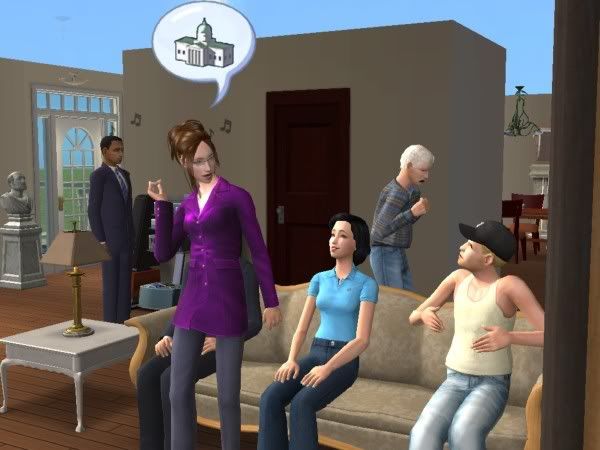 "I don't know, but I think that's the kind of change we need in Washington!"
"Hey, what is this crap on TV? An Obama ad? I'm Sarah Palin, and I DO NOT approve this message!"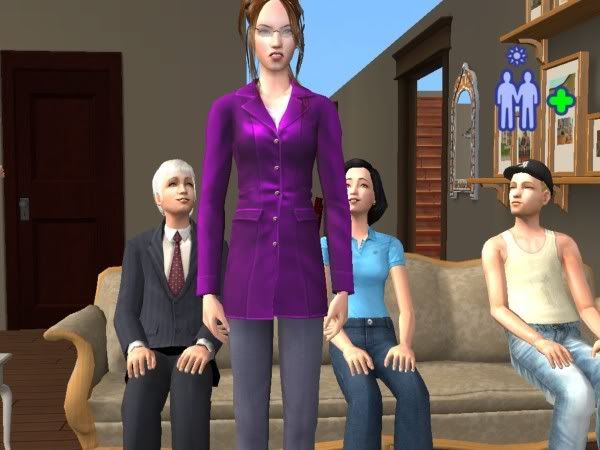 Everyone: What are you doing? You're blocking the TV.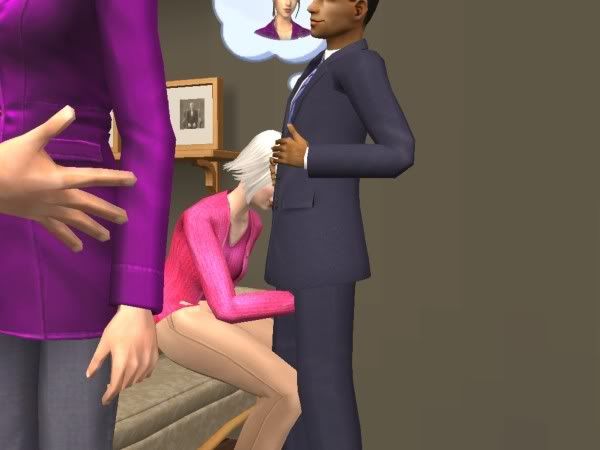 Whoa there, Marian!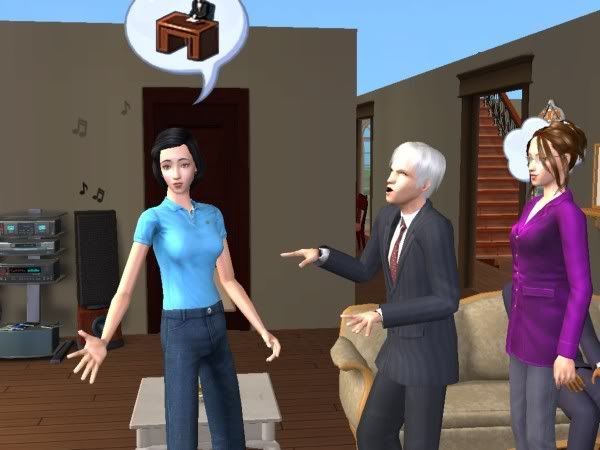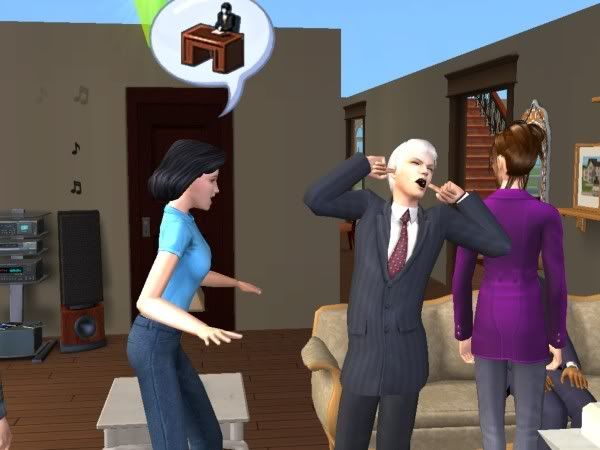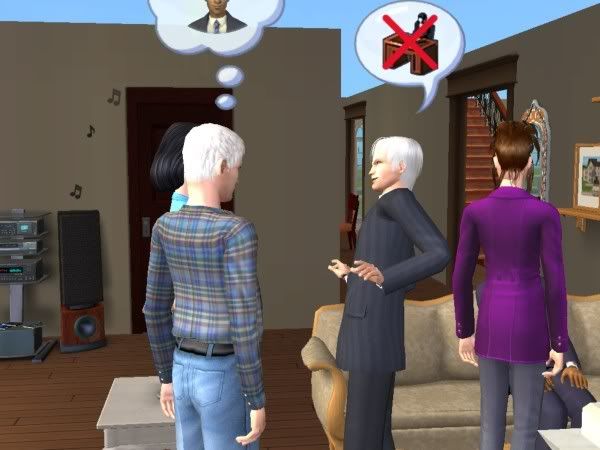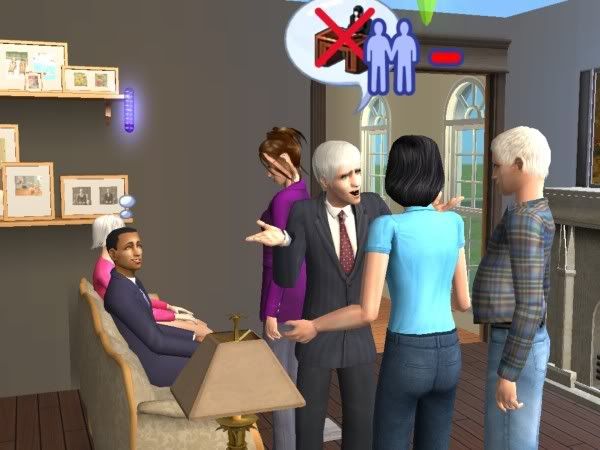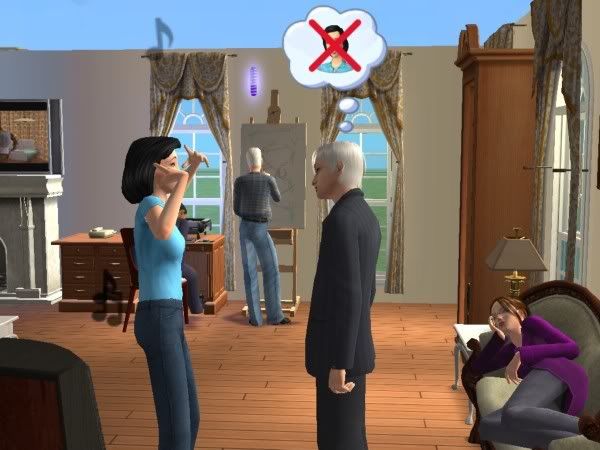 Wow. Way to impress the voters, there.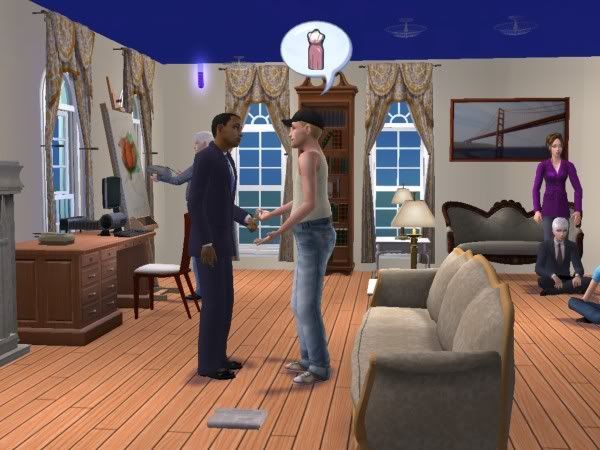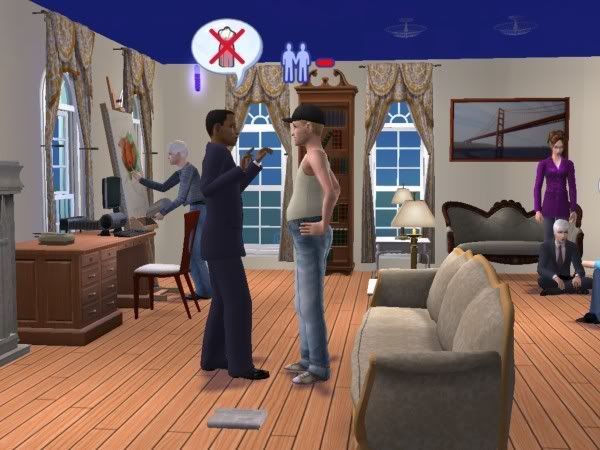 Joe: What do you think about dresses?
Obama: I hate them. Hate them! How could you even talk to me about dresses?
Wow, this really is not going well.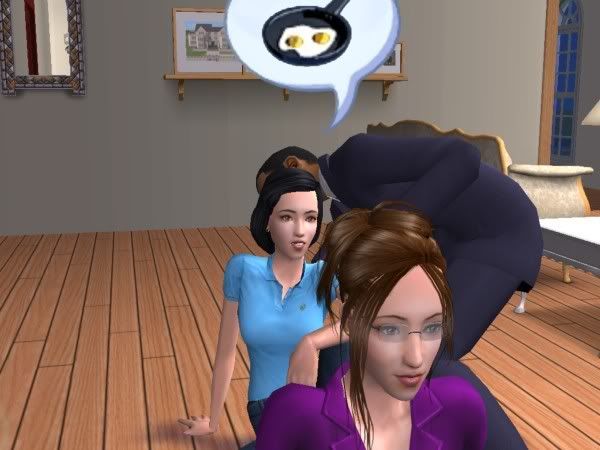 Obama leans down to... take a bite out of Jennifer's head?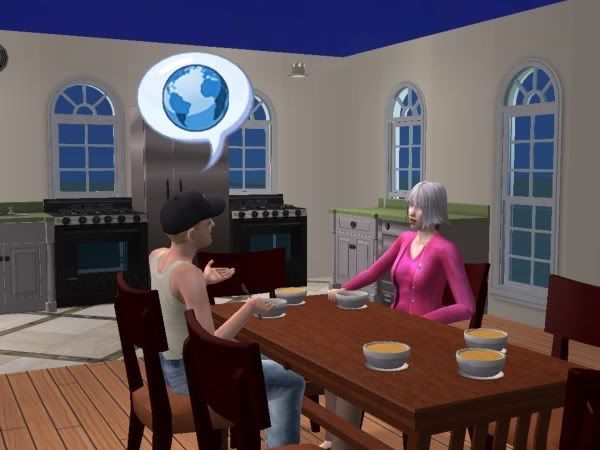 Joe: Marjorie, don't you think we need to restore America's standing on the world stage?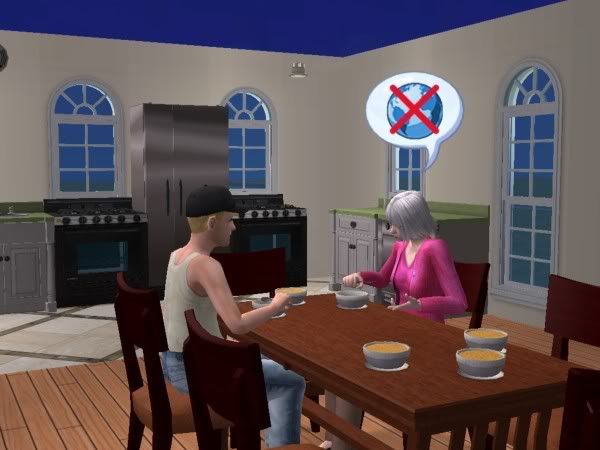 Linda: No.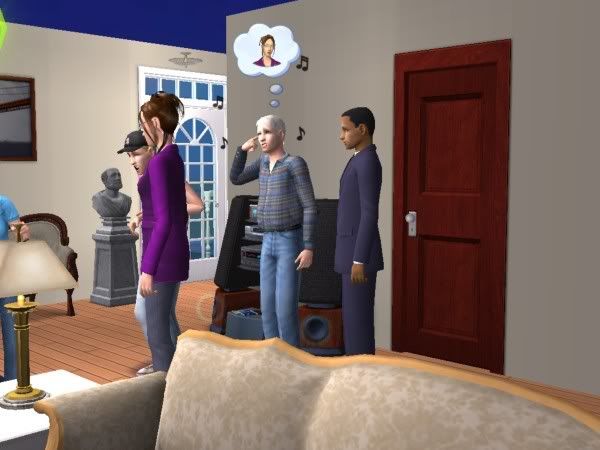 This can't be a good sign.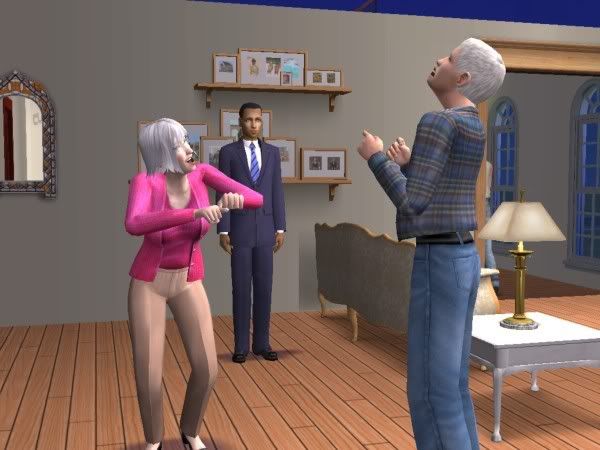 This is not the White House. It's the FREAK house.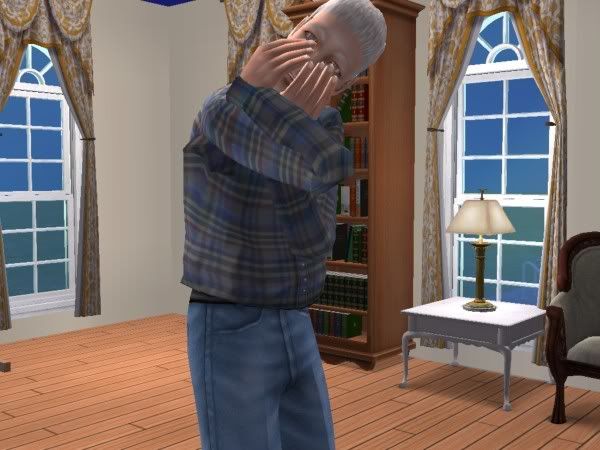 Wow. And I thought it was scary when Obama contorted himself like this. McCain just takes it to a whole new level.
Haters to the left.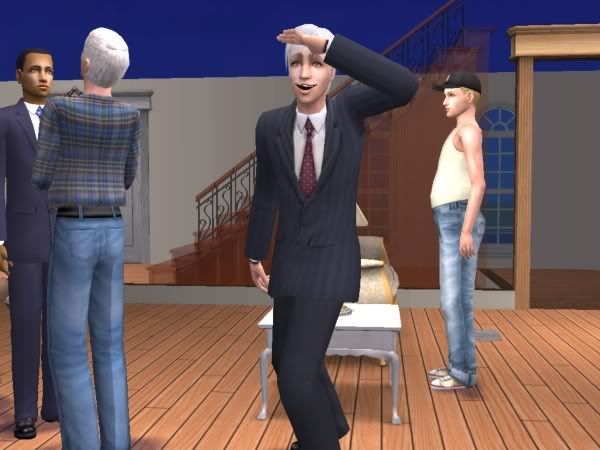 "I don't know what Sarah's talking about, I can't see Russia from here!"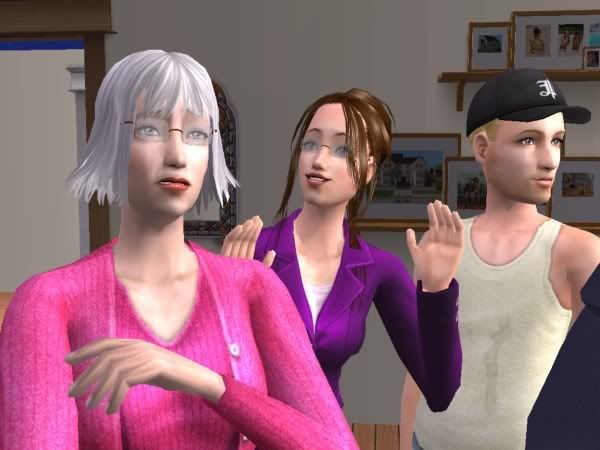 Palin: Vote for John McCain. He knows what it's like to be old!
Peggy: Oh, please.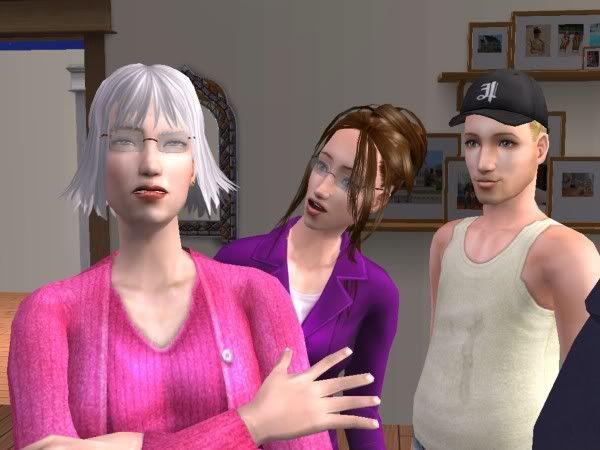 "Helen? Helen? What did I say?"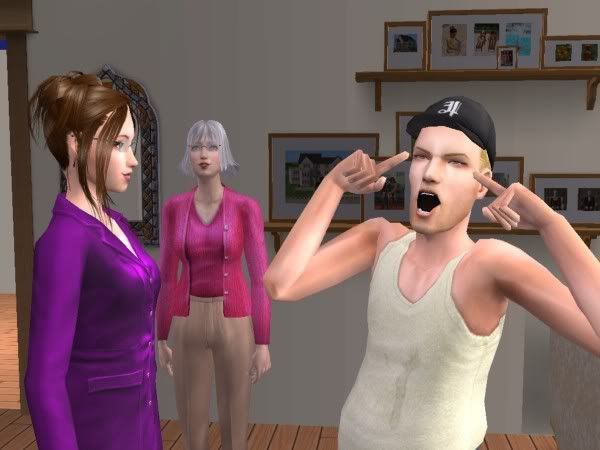 Looks like she's not having much better luck with Joe.
Palin looks dejected, whilst Joe elbows Obama in the neck.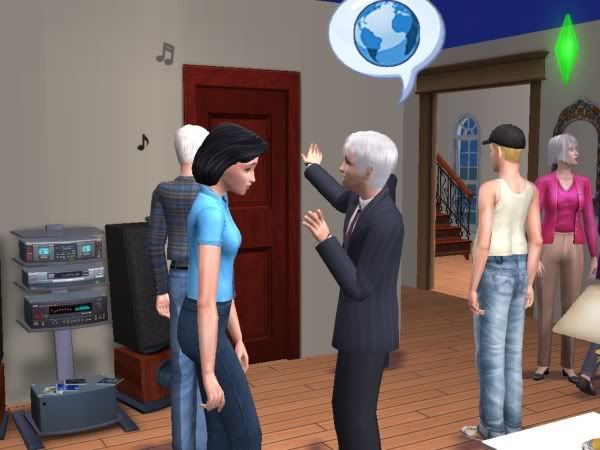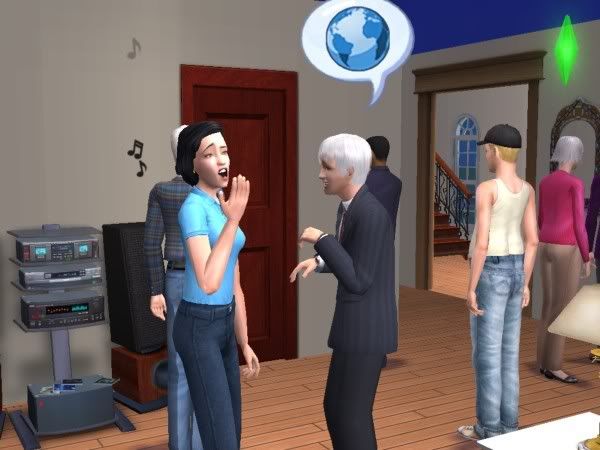 Sorry, Biden, I think Romney already tried that with Hillary Clinton. "I can show you the world" just isn't a good pick-up line.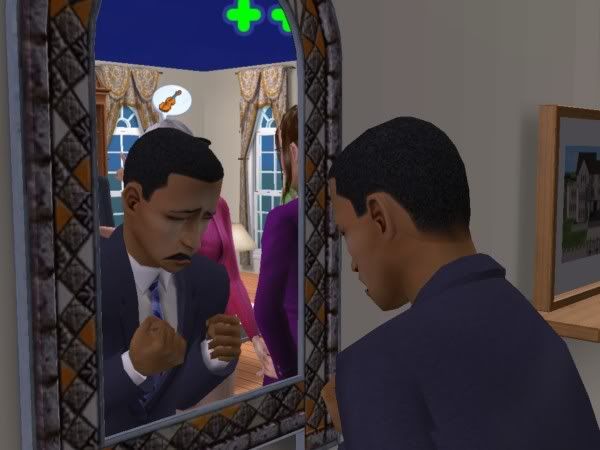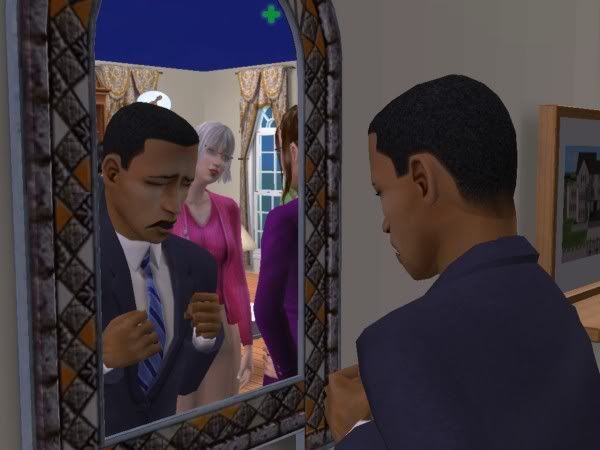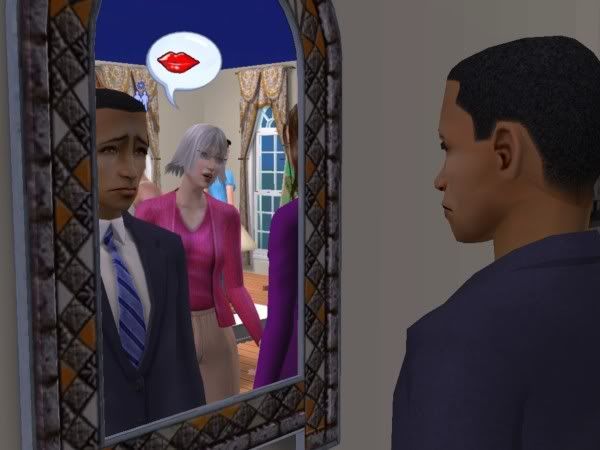 I thought it couldn't get more emo, but then Obama started crying in front of a mirror.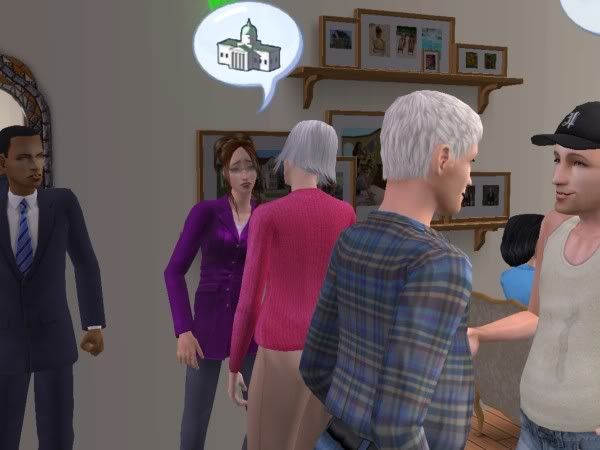 Palin: To be honest, Kathleen, I don't think I even WANT to win now. I mean, Washington is so lame. What am I going to shoot at from a helicopter in Washington?
Obama: Must... destroy...
McCain: Joe, I like your style. How would you like to be my running mate?
Jennifer: *Watching SNL*
Biden: *Missing in action*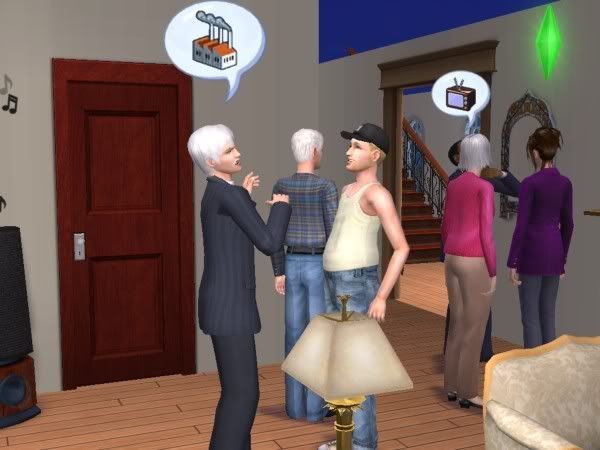 Oh wait, there he is. Arguing about pollution with Joe. At least Joe seems to be into it.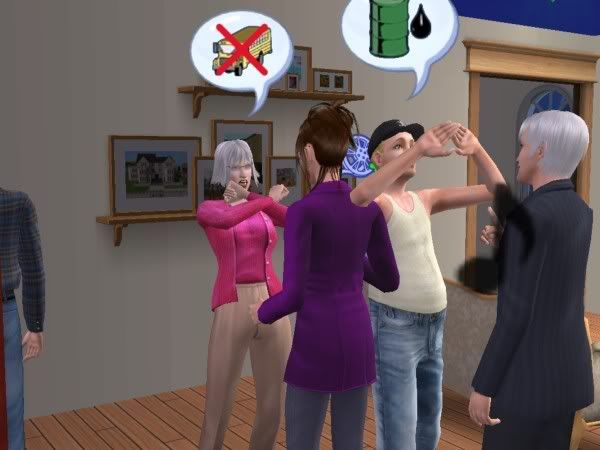 What is it with Joe shoving his elbows through people?
Joe: We need to reduce our dependency on foreign oil!
Adele: Governor Palin, I heard you cut funding to schoolbuses! Now how am I supposed to get to school?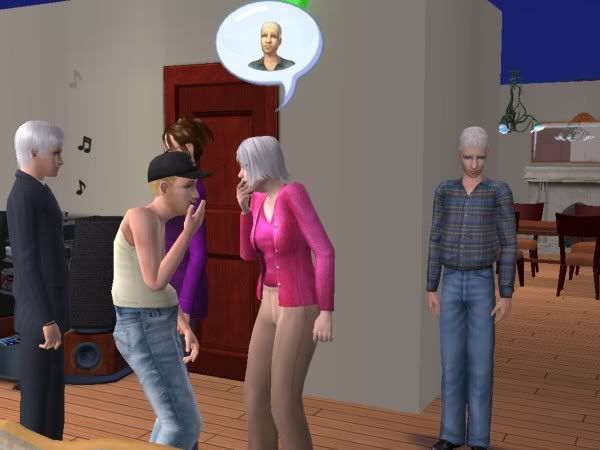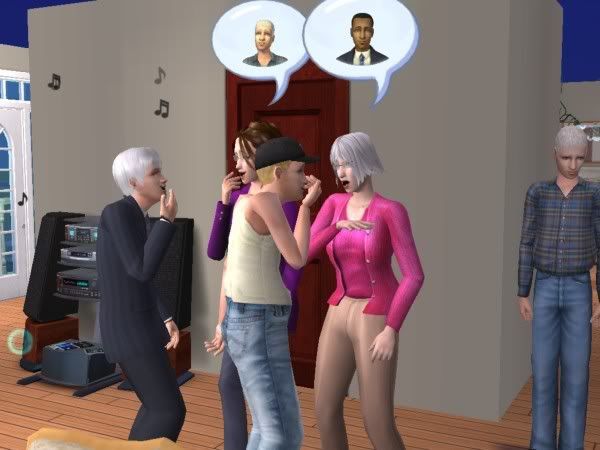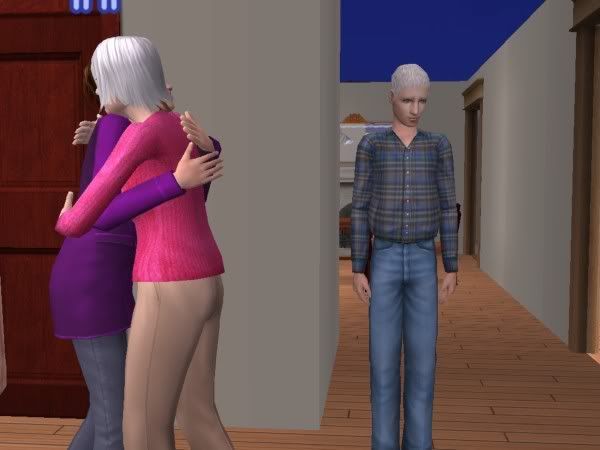 Honestly, pretty much all these people do is gossip. Anyway, McCain stood in that exact position, not turning his head, for like an hour. He was staring at Obama, who was sitting on the floor just out of sight of the in-game camera.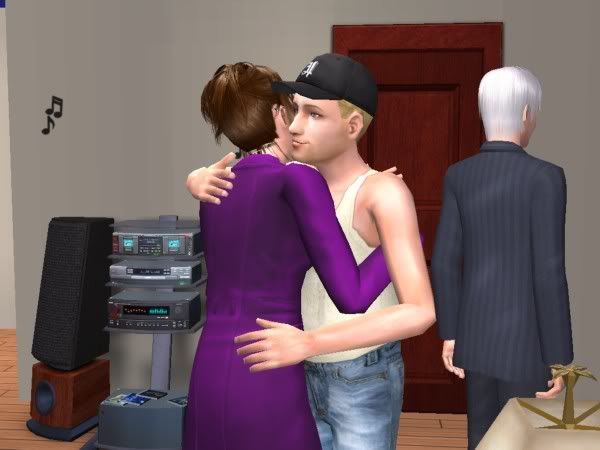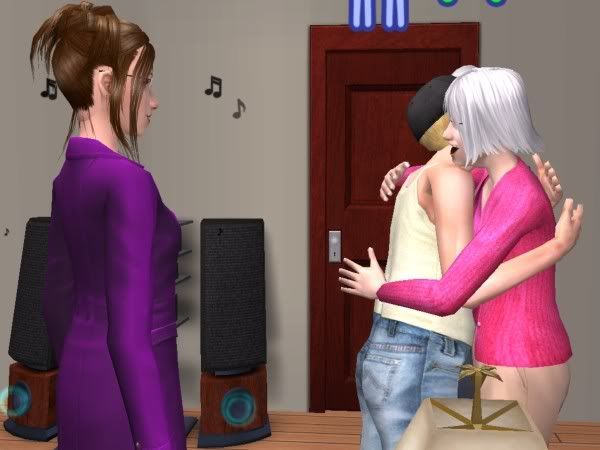 The house suddenly turns into a giant love fest.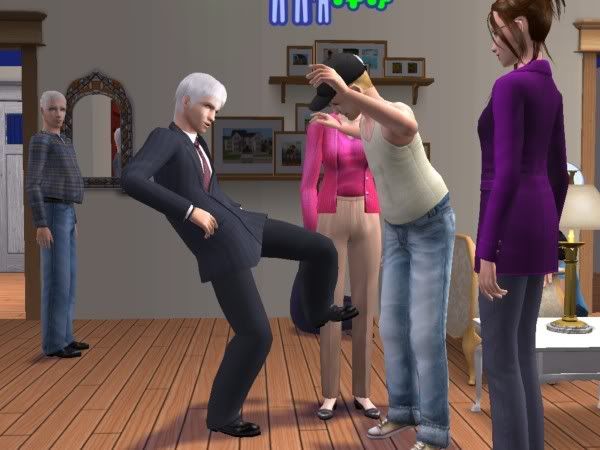 That is, until Joe Biden kicks straight through Pearl's leg...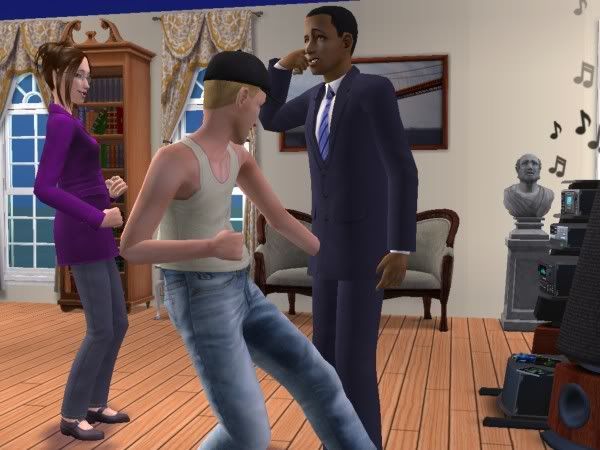 And Joe punches Obama in the crotch...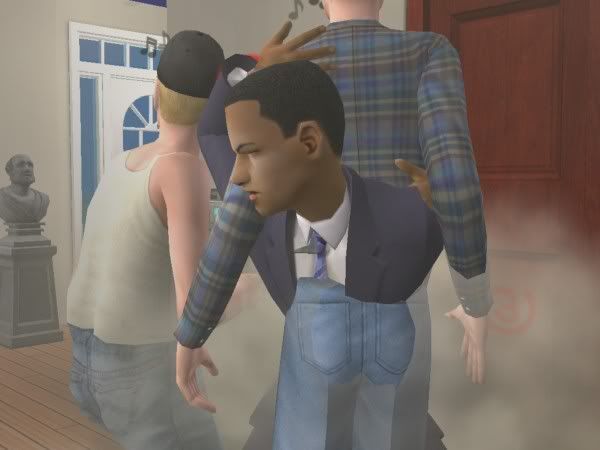 And, well... what do you expect?
And that is it for the presidential sims. I hope you all had fun reading this. I had a lot of fun playing it, and writing it up. If you're an American, don't forget to vote on the 4th, whether you're voting for Barack Obama, John McCain, Bob Barr, Ron Paul, Ralph Nader, Joe the Plumber, or Tina Fey.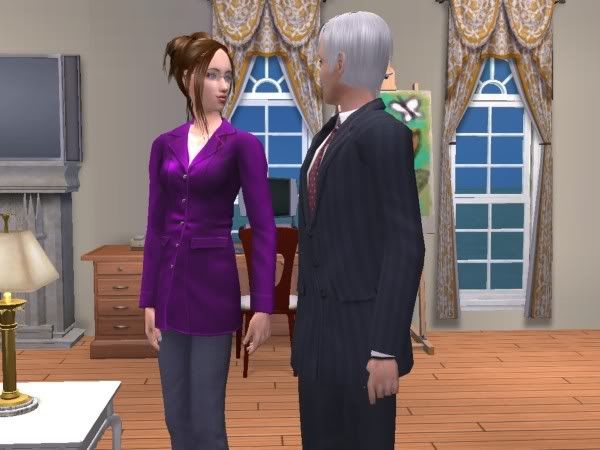 Sarah Palin: Joe, I think this is the beginning of a beautiful friendship.
Joe Biden: I wouldn't count on it.
~*~*~THE END~*~*~